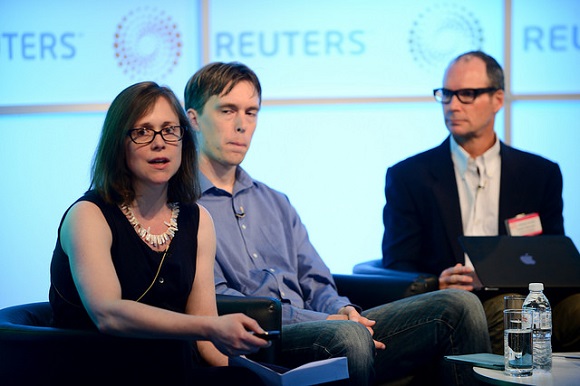 Analytics can give journalists instant feedback on their work – but what are the numbers telling you about your wider editorial strategy?
Newsrooms can use metrics beyond simply determining whether or not an individual story is popular and at today's news:rewired conference, in London, three industry experts revealed their top tips for collecting and using analytical information.
Elinor Shields, Head of Engagement at BBC News:
The BBC, she said, has recognised it must innovate by conducting pilot studies with journalists, and then see what works and what doesn't. They also needs to optimise, she said, so journalists ensure they know how to make stories work in these terms. Likewise, she said, the BBC needs to reflect on retrospective data, identifying what did and didn't work in the past, and crucially, why content might have been a success – or not.
Currently, the BBC uses four analytical tools to help improve its content and audience engagement: Chartbeat and Crowdtangle, along with internal bespoke tools called Telescope and an audience engagement site.
"Crowdtangle really pushes journalists: it broadens the agenda and gets them to think more creatively," she added.
"It also gives you the option to see which kind of stories are doing well for you and your competitors."
Elinor's key points:
Not all metrics are equal, so instead you should pick out key metrics, and align them across your business
The BBC is looking into four key areas of analytics: engagement, the under-served (young women aged 16-35), social (offsite visitors, along with referrals) and video content
Data drives efficiency. You need to know what doesn't work, and then stop
Think about what it is, as an organisation, you want to achieve strategically, and then look for the metrics to match this
Rob Hammond, Head of SEO and Distributed Platforms, Trinity Mirror:
The newspaper publisher Trinity Mirror has over 260 titles, he said, so analysing individual titles and their metrics is a large-scale operation.
Acknowledging the need for something to inspect the 1,000+ articles published every day, Trinity Mirror created HiveAlpha, a bespoke internal tool that archives every single article. It stores numerous forms of data, from the number of comments to who wrote the piece.
In an effort to help journalists, HiveAlpha also has individual pages for them to see all of their articles and identify which ones performed best and worst, providing them with the opportunity to figure out why audiences read certain stories instead of others.
Rob's key points:
Don't focus solely on page views or unique visitors
Identifying audience disengagement is important. Look at the performance of your bottom 10% articles, and reflect on what didn't go well
Choose what you think is going to be a success for your user
David Brauchli, senior vice president of communications at Content Insights:
Content Insights is an editorial analytics package with the aim to assist publications with data and statistics, he said.
"Not every publication has their own bespoke tool," Brauchli explained. "Google Analytics has hard-to-read data, and the editors are not data scientists."
As part of its package, Content Insights helps establish a Content Performance Indicator (CPI), an algorithm that looks at ratios and relationships between different analytics.
"Our goal is to go from browser analytics to human metrics," Brauchli said.
Content Insights' aim is to inform newsrooms, he added, to show them which stories and themes are the most important.
"We want to be able to show them that they may not need that many reporters on a certain story, and that they should focus on something else," he said.
David's key points:
Pageviews are not reliable as a sole form of analytics: they do not reveal any user intent, and you cannot identify if users are engaging with your content
Social sharing does not tell you if people are reading it
You should compare metrics against each other — how do they affect each other?
Try and get away from those clickbait headlines, or at least adjust them – they do not match up with your editorial strategy