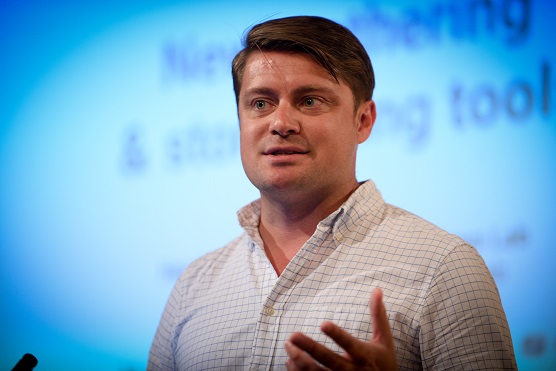 Matt Cooke, head of the International Google News Lab and a former BBC journalist, used his session at the newsrewired conference, in London today, to introduce a series of newsgathering and storytelling tools and suggest a number of tips to help journalists with their research and verification online.
Cooke showed delegates examples of what a journalist can do to perfect their basic research skills, video and image verification, and also explained the launch of a revamped tool, Storysphere.com
Basic research: how it works, refinement and data.
Mastering the basic research is something that every journalist should be able to do, he said.
To learn about Google Search, Cooke suggests two pages: to learn more about the science behind the Search you can go to Inside Search, and to learn all of the search refinements and operators (with a self-paced course) then go to Powersearch with Google.
Another useful research when looking for data is Google public data explorer .This is a digital library for researchers which puts together data coming from the World Bank and other institutions.
Verification: images, Youtube and video
Verification is something very important for any journalist. Google offers a number of tools to help verification but there are also others coming from other companies according to the needs of the journalist.
A simple way to work on images is Google reverse image search, Cooke said. From the search image page the user can drag and drop images they wants to check and a results page will load showing similar images and pages that include matching images.
Video is something newsrooms also need to check every day, and Cooke outlined some tips on how to verify content uploaded on Youtube.
The first step is to search using YouTube's own filters (like quality, duration and time of uploading). It also makes sense to look at the channel that originated the video: who posted it, who owns the channel, what type of content is showcased there, is this video in some way related to what they usually post, and whether it is a verified channel.
Google is not the only provider offering help when verifying video content. Amnesty International US created a tool, called the "Youtube dataviewer" which offers to extract metadata from the video you are watching. 20. Each individual provider can also be filtered which can make it not only easier but quicker for players to find their favorite games. There's a search function as well which can find games in a matter of seconds.
Another useful tip to verify a video would be to analyse it frame by frame. That can be done either on the video or using specific chrome extensions. Extensions are also useful to do a quick reverse image for Thumbnail search like RevEye.
Additional tools
Cooke went on to outline a series of additional research tools and sites that journalists can use for geo-localisation, images, and website verification.
Cooke ended his presentation talking about the revamp of Storyspheres, a tool 'for enhancing 360 images that lets you position audio within a scene, to easily create interactive experiences'.
Originally created by Google Australia, with external company, this tool allows journalists to upload separately a 180 degree or 360 degree image and add an audio background or a series of interactive points with dedicated audio tracks.
The tool has been remade to make it easier to upload and edit images, he added, and has be used by the Washington Post in the past and the Trinity Mirror recently to create immersive experiences (here an example from the Manchester Evening News).