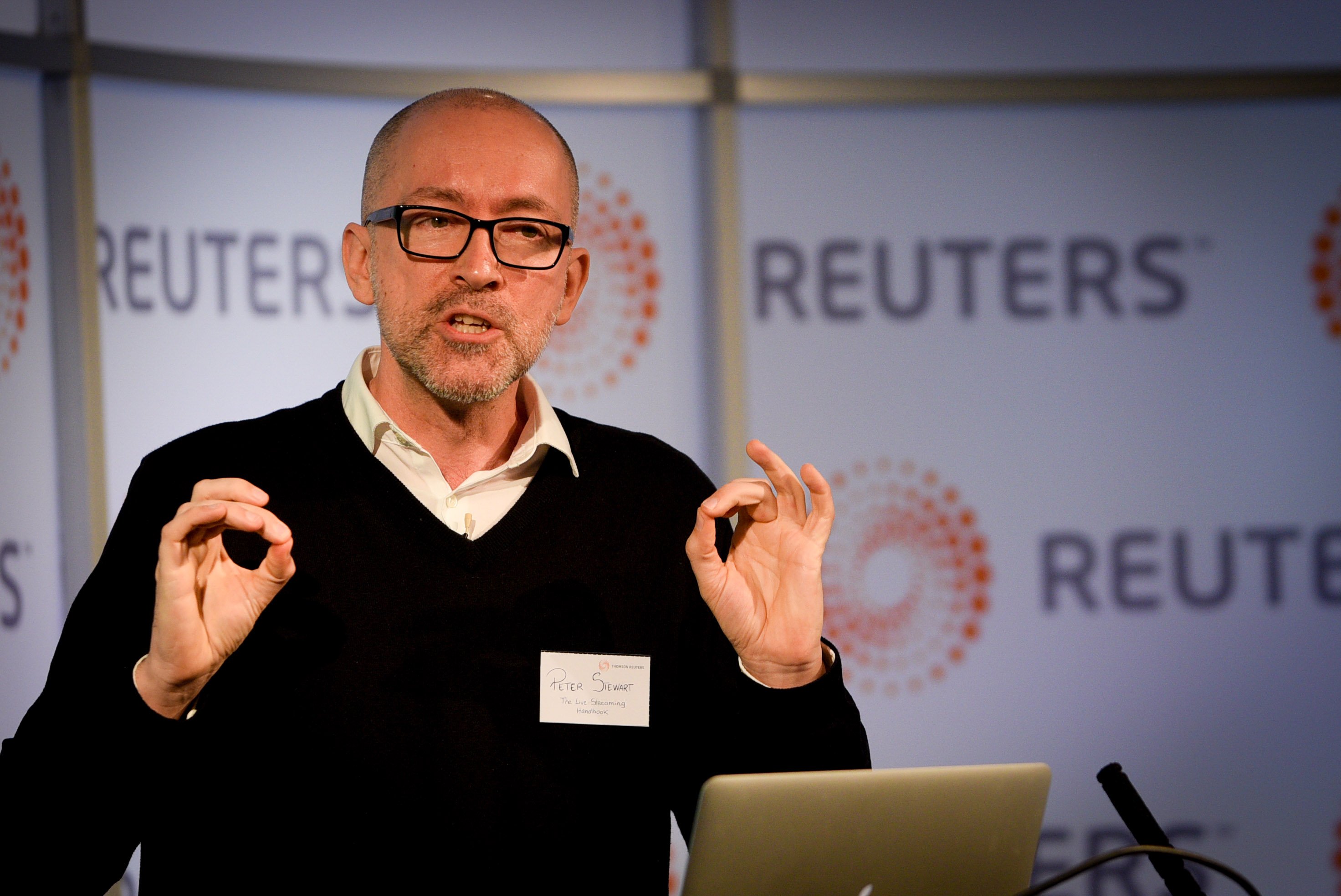 In a constantly evolving newsroom, journalists are always looking out for interesting ways to enrich the human experience using unique and distinctive formats. Live video, for example, offers audiences real-time coverage of live experiences.
At today's newsrewired event (7 March), Peter Stewart, author of The Live-Streaming Handbook, shared some of what he has learned throughout his career as a broadcaster and BBC trainer. From getting viewers to watch a 30-minute live-stream of people lying on a beach to avoiding the ethical issues that come hand-in-hand with real-time reporting, his advice is useful for anyone who wants to produce engaging live videos.
Know why you are live streaming that particular experience
Stewart suggests asking yourself a few vital questions before starting a live-stream. Why are you about to start a live-stream? What is the advantage of going live? What are you actually trying to get out of it?
"Look for the sweet spot between news and context," he said. "Make sure there's a point and continue to check with yourself that there still is a point to going live. We want explanation, context, rather than sheer voyeurism."
Have a conversation
One of the main strengths of live video is communication and the conversational aspects of it. You should get people to ask you questions and you should ask them questions too. Do they want to see inside a building? Do they want to get another perspective on it or get a little bit closer?
Richard Evans, strategic partnerships manager at Facebook, joined Stewart on the live video panel. He noted that live videos on Facebook get six times more interactions on average than regular videos. They also generate 10 times more comments than regular videos. Live videos are "a fantastic way to build community and harness conversation," he said.
Show something that's happening now
Stewart recommends showing "something that's happening now, something never to be repeated, and not available elsewhere, stuff people will be able to watch as a community, all experiencing that situation together." Long-rambling, open-ended, ill-prepared videos should be avoided.
Reuters' project manager for video Tessa Kaday shared some of the outlet's most popular live-streams. These included Hurricane Irma, where reporters drove around endlessly live-streaming the catastrophe from a window of a car, and the solar eclipse.
Show something that's moving, or move yourself
"I'm not a great fan of people who sit in their own home, or office studio, just sitting there talking to the camera," said Stewart. "That's dull. It's boring. It's not moving."
He is a big advocate of going out to the heart of the scene and getting the story right at the action. He believes if something isn't moving you should go out yourself and show the different perspectives available.
Great visuals increase engagement
Start off with a fantastic picture to grab your audience's attention. Stewart recommends you "keep looking for that visual engagement and entertainment as you go through."
Stream 'clean' for the edit and don't forget your angles
Think about the editing process – the best bits may be cut out later so you must ensure you're holding your shots.
While you're filming, don't forget about your angles. Avoid holding your phone at eye level, remember your rule of thirds and try different angles. Get close up, bend your knees, walk towards something or try getting a higher perspective.
Think about your kit
"People want to see the story, they don't actually want to see the storyteller," he says.
Often Stewart uses a gamble or a tripod and is usually walking around. He very rarely shows himself. He also uses a clip-on mic which he can unclip it to use as a handheld mic if he needs to interview someone. He keeps mini mics in his pocket which can be used immediately.
"When I'm at the factory fire and the fire officer says okay I can talk to you live but I've got to do it now and I can only give you one minute, you can just plug that in and you don't have to start messing around with clip mics and so on."
You often run out of hands while filming live-stream and so he also recommends carrying a map holder bag to keep his notes at hand.
Does it need to be live?
"Most live-streams are crap," says Stewart, "there is a very low bar." Use the many resources available to help you stand out.
Live-streams are easy to do, but they're also easy to do badly. Facebook lives are given priority distribution so if your live-stream goes badly, there's a very high chance a lot of people will notice. Prompt yourself the question: Does it need to be live?
"Most stories, scenes or situations are better done recorded, edited, subtitled and put out for sixteen minutes rather than long unfocused, boring, repetitive, sixteen minute live-streams.
"What's your priority? Live streams are fun but your priority of course is to your main platform. If you're working for a radio or TV station, then obviously what you've been asked to do for them takes priority over you holding up a phone."
When do you start a broadcast, and when do you stop?
You never know what's going to happen. Try and give reassurance in your commentary that due to your environment you may need to cut the live-stream short.
You may be live-streaming an event that could have traumatic consequences. Families of victims may be watching or you might be in a potentially risky situation that could endanger you. Stay safe.