Home » Event news
Two new speakers join us at newsrewired, 7 March, to talk mobile reporting and peer-reviewed journalism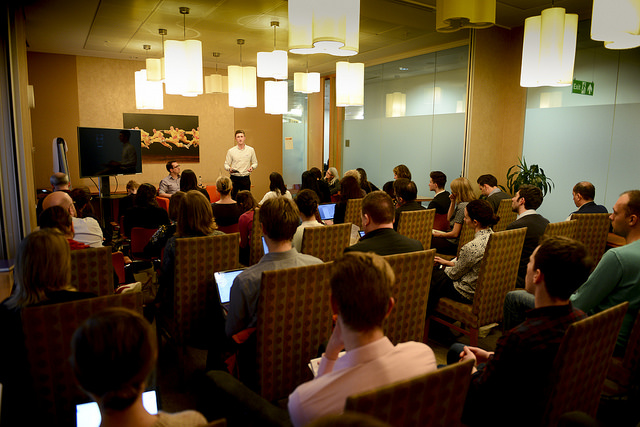 At Journalism.co.uk we are working on the preparations for our upcoming newsrewired digital journalism conference, taking place on 7 March at Reuters in Canary Wharf, London. We have published a draft agenda which you can see here, and which we are constantly updating as we are able to confirm new speakers and sessions.
Today we are pleased to announce two more speakers joining us on the day, discussing the changing relationship between media and audiences, and mobile workflows for journalists respectively.
Kristin Granbo (@KGranbo) has produced children's news for the Norwegian Broadcasting Corporation for the past four years. Her editorial team at Supernytt, NRK, has shown a unique interest in communication with and news production for children on new social media platforms.
Their presence on Snapchat and Instagram has resulted in a strong insight into the lives of their target audience, and their keen interest in understanding children's use of social media has also broadened their journalism. Today, children's own contribution through text, pictures and videos are a big part of Supernytt's journalism on all platforms.
At newsrewired, Kristin will join Marc Settle, smartphone trainer at the BBC Academy, in a session discussing mobile-first journalism, both on the newsgathering and production side as well as storytelling and engagement with mobile audiences.
Sarah Hartley (@foodiesarah) is the co-founder and editor of Publish.org, a global online journalism platform which strives to be the newsdesk of the internet. She is also a consultant and journalism trainer for organisations in the UK and overseas including Google's Digital News Initiative Innovation Fund, Thomson Reuters and Dublin City University where she is one of three journalists in residence for 2018.  Before joining Google, Sarah worked at The Guardian Media Group for more than a decade on products including ManchesterEveningNews.co.uk, Guardian Local, n0tice.com and Contributoria.com.
Sarah will join Lilah Raptopoulos, community editor, Financial Times and Jessica Best, engagement editor, De Correspondent on the closing panel at newsrewired, and will share insights into the peer-reviewed journalism that Publish.org is championing.
Tickets for newsrewired are still available for £180+VAT, so register today to avoid missing out.
Journalism.co.uk will also be hosting a day of training at The Bridge on 8 March 2018.
Delegates can also register for newsrewired+, which will give them access to the conference on 7 March and one hands-on workshop the following day. As a newsrw+ delegate, you can choose between two in-depth courses on 8 March.
Newsrewired+ tickets are available for £368 +VAT. They represent a 10 per cent discount compared to booking tickets for both days separately.
Training options:
• Online content strategy for journalists
Should I liveblog a breaking news story? Or do a Facebook Live? Or would a traditional news story be the best path? How should I follow it up? What will reach my audience, and what will get me the best traffic? How do you choose how to spend your precious time or staff resources on the right kinds of coverage for your audience? And which kind of news story is each kind of digital content suitable for? These are the questions journalists and editors face every day in the digital age.
This one-day intensive course is designed to help you navigate those questions, and make great decisions on how to use the right style of coverage for the right story. Led by Adam Tinworth, a digital journalism expert for over a decade, and a visiting lecturer at City, University of London, this course will bring you up to speed with the cutting edge of thinking about online content, with plenty of real-world examples and exercises derived from his work with organisations in the UK and overseas.
• Storytelling with infographics
This course will help you to think creatively about visualising your story and data in the most effective way for your audience across printed and online media. This one-day workshop, led by Nigel Hawtin, who worked as graphics editor at New Scientist for 20 years, is aimed at journalists, writers, PRs and communications teams who are looking to incorporate infographics into their storytelling.
At the end of this course you will: be equipped with the background knowledge and skills needed to produce or commission an effective infographic; understand the role of infographics and data visualisations for storytelling; understand how to translate complex issues into appropriate visual forms; avoid common mistakes; and be able to look at other infographics critically.
Please note the training day on 8 March takes place at The Bridge, 81 Southwark Bridge Road, London SE1 0NQ.
Related posts