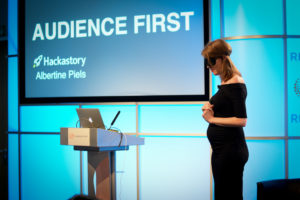 Forget digital-first; build an audience-first strategy instead – this was the message from Albertine Piels, director of journalism innovation agency Hackastory at July's newsrewired conference.
"If we want to make an impact, we shouldn't talk about print versus digital or desktop versus mobile. We need to talk about your audience and how they behave," she said.
Walking onto the conference stage blindfolded, Piels' talk began with a few chuckles from the audience. The metaphor for how newsrooms are often blind to their audience did not escape the journalists in the room. "How would you feel if I did my presentation like this?" she asked. "It makes it hard to connect with us," one delegate answered; "It's so impersonal," added another.
This is how many newsrooms navigate: blind and disconnected from their readers, argued Piels. In the newsrooms in which she's worked, she's received many different answers to the question 'who is your audience?', from the whole of society or all active readers to "everyone between 22 and 80".
"We tend to create one product for everybody because that's how journalism worked before – but it no longer works now," she said.
To work out who your audience is newsrooms can start by diving into their analytics. Seeing how many page views different stories generate is important but not the only metric you need to consider when determining your audience, explained Piels: "It depends on what you're looking for. Interneto WEB svetainių ir elektroninių parduotuvių kūrimas, seo paslaugos ir patarimai bei reklama internete https://seopaslaugos.com/internetine-reklama-privalumai-trukumai/ Is it eyeballs? Then certain types of content like Justin Bieber's proposal or Kim Kardashian's behind will work. But does it also create a returning group of readers?"
If you focus solely on page views, she added, journalists can grow disillusioned because of the staggering number of views softer, more gossipy content can bring. In one of the newsrooms in which she worked, Piels was told that readers want 'candy, not vegetables', but once that same newsroom introduced analytics, it discovered there was also an audience interested in harder content.
In the search for new business models, building a returning audience and measuring the impact of your journalism on this group will be increasingly important. It all begins with defining your audience and then starting a conversation with them, said Piels.