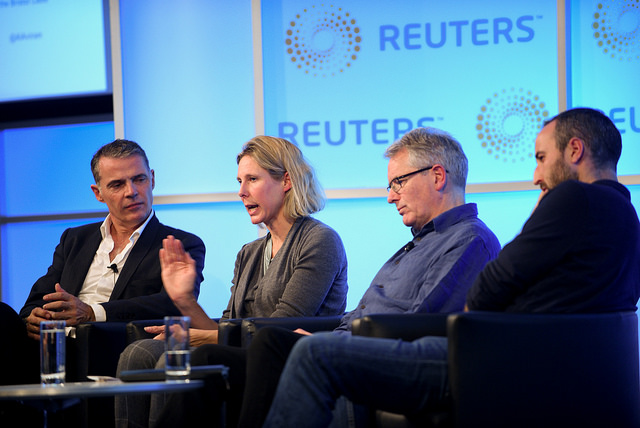 The decline in advertising revenue was one of the major factors leading to closure of many local newsrooms. Although the media industry is yet to find a sustainable model for financing local journalism in the digital age, a number of new initiatives suggest that adopting a new business model can help solve some of the challenges.
Speaking at newsrewired on 7 November, panellists discussed how they are experimenting with different business models, testing out memberships, audience engagement strategies and community building projects.
1. Membership and cooperative model
Since being rolled out three years ago, the Guardian's membership scheme has become one of the most oft-cited models amongst major publishers in the UK and internationally. As newsrooms debate whether they need to follow suit, if the Guardian's lessons in memberships are anything to go by, it can certainly help getting loyal readers to reach into their pockets and back their journalistic cause.
However, new media startups have shown creativity in this field too and are starting to rethink how to implement a membership business model. Look at how Swiss media start-up Republik is turning paying members into shareholders, and has collected 7.7 million CHF (£5.8 million) from mostly memberships in a recent crowdfunding campaign.
Of course, this has shadows of the notable success story of Dutch news site De Correspondent, and how their distinct editorial policies urged memberships to buy into the crowdfunding launch. This was very much the inspiration for one cooperative membership business model in the UK.
Alon Aviram, co-founder of The Bristol Cable, explains that his membership-based news organisation converts local residents into reporters and shareholders.
"We have put the pen or the camera in the hands of local people, so that they can be trained up to report on public interest stories alongside professional journalist and strict editorial standards," he said.
"What we have effectively done is flip the pyramid of ownership on its head, and put control of local media in the hands of 2,000 people."
A side-effect of this model is that owners cannot sell their business and leave it asset-stripped, as it was the case with many small, local newsrooms. It also means that key decisions are placed in the hands of their membership at large, as an act of democratising local media.
"For example, we don't host any advertising online which is a decision made by our members," said Aviram. "We also did a campaign that was mandated by our coop on the use of bailiffs by councils as a way to collect council tax."
With what started as a community-lead story, their Bootout Bailiffs Campaign has prompted the Bristol council to take action, and Aviram believes this shows how a cooperative business model can be a viable alternative to local news and hopes to see similar startups elsewhere around the country.
"Our outlook was that the business model behind traditional local journalism inhibits adversarial and investigative journalism," he said. "By decentralising membership in the media we can take on stories that other outlets that might not be willing to do."
Looking to the rise of stakeholder-driven media, Aviram said other examples such as City Bureau, Texas Tribute or San Francisco Voice, offer valuable peer-learning opportunities to understand sustainable business models and how they are perceived in the public.
"We need to make the case for journalism to be free at the point of access and in the public good. It needs to be supported, and be seen just like education or healthcare, and as an important pillar of our society," he said.
2. Collaboration networks
When it comes to addressing resources gaps in journalism, Rachel Oldroyd, managing editor, The Bureau of Investigative Journalism said that collaboration between newsrooms could be an effective solution.
The non-for-profit organisation The Bureau of Investigative Journalism launched Bureau Local in 2017 as a collaborative network for journalists and newsrooms, and Oldroyd told newsrewired that it has seen newsrooms offer up information that has value elsewhere.
"In this country, our local papers are being hollowed out because the financial models don't stack up," explained Oldroyd. "We have amazing reporters out there, but they just do not have the time to do the public interest, deep-digging that many of them would like or many of their editors would like as well.
"Bristol Cable gave us a story that they offered up, where they had FOI'd a lot of information. They were only interested in this tiny segment of information to do with Bristol but there were great stories or Leeds, Birmingham and Glasgow. We pushed that out to the members."
Oldroyd said a collaborative network of journalist was an idea inspired by the ICIJ who had broken the Panama Paper story using collaboration between international titles. She said that since implementing the model domestically, it has seen reporters from competing publishers, such as Trinity Mirror (now Reach) and Johnson Press, cooperate. Moderator Peter Jukes, journalist and author, called it a 'trade professional model'.
"We didn't go to editors, we went to reporters. Our members are reporters, they understand the value of collaboration, they understand the value that the network brings. They don't break embargoes, they don't leak information, they bring their quotes and have stories offered up."
3. Charity status and The Cairncross Review

Oldroyd said the Bureau of Investigative Journalism also takes inspiration from the US-based not-for-profit organisation ProPublica with its foundation structure. She then pointed out that philanthropic funding could be valuable "headspace" for local news organisations to escape a "survival mode" mentality, which could allow entrepreneurial innovation to surface.
"This has become a really big noise in the US right now, there are over 300 philanthropically funded organisations, and we're starting to see it all over Europe and in the UK," she explained.
"I don't necessarily think foundation funding  is sustainable forever — we take advantage of it — and I think it is a very useful way of helping the media industry bridge the gap between where we are now and discovering new models."
She also said that the UK should look again to the example set in the US and give media organisation a charitable status, as this would allow more foundations and philanthropists to finance journalism.
"In this country, the charity law does not currently allow journalism to be a charitable act. It means a journalism organisation cannot get charitable status unless you are an educational organisation. That limits your funding from individuals because they cannot reclaim the tax on it."
The recently proposed Cairncross Review will assess sustainability of journalism in today's market. Brian Cathcart, founder of Hacked Off, a crowdfunded campaign launched in the aftermath of the 2011 phone hacking scandal, said this is a welcome opportunity for much-needed, but conditional, state intervention.
This is not without its risk. Cathcart was critical of the Local Democracy Reporter Initiative, which, in his words, saw BBC licence fee money predominantly go to the three big local news publishers: Reach, Johnson Press and Newsquest.

"In almost every way that sends a bad signal because even if it happened to work in some circumstances, these are the organisations that have presided over the shrinkage of the industry, they have closed down the papers and sacked thousands of journalists. Okay, there may have been no choice. But we have never had the audit to say these are the best custodians of the future because the past is not very attractive. 
"It was all done in a hole-in-the-corner way and it left us something only the industry knows about. So it's not a model for proceeding. I lean towards the Cairncross review, it is at least there implicitly to view the possibilities for state subsidies for journalism."
Cathcart added that the Cairncross Review instead presents an opportunity to support local innovation but also threatens to subsidise 'low quality journalism'. Cathcart said that the devil is in the detail with that terminology, which implicitly acknowledges that there needs to be a quality test to hold recipients to account.
"Also implicit because it forms part of the framework why the government has set this up, is this idea that they are going to screw money out of big tech. We had a tax announced last week that would raise £400m.
"We can't be supporting organisations that propagate disinformation," he continued. "It should go to organisations that embrace recognised regulation so that there is a publicly credible system for upholding standards.
"They won't like that — it's got the Leveson word behind it -— but I don't see how the public could subsidise an industry which is supposedly self-regulated but in fact gives itself a licence to behave arguably however badly it wants."
Hear more from the memberships and business panels here
https://soundcloud.com/journalismnews/memberships-and-sustainable-business-models-for-high-quality-journalism-newsrewired-round-up