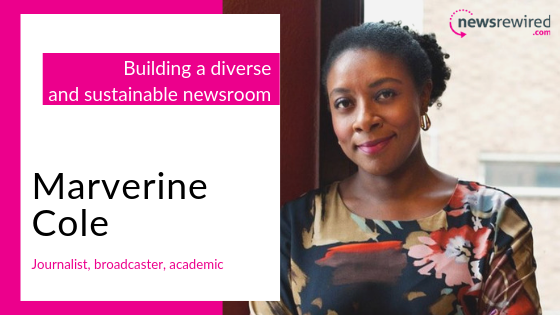 The next Newsrewired digital journalism conference will take place on 27 November 2019 at Reuters in Canary Wharf, London.
One of the key sessions of the day will be a discussion around diversity in the newsroom.
We will look at why news organisations are increasingly looking to hire from underserved communities not only as a PR exercise or because it is the right thing to do, but because it is essential to regain audiences' trust.
We are pleased to announce that Marverine Cole, journalist, broadcaster and academic at Birmingham City University, will be joining the panel.
Marverine Cole has worked for many of Britain's most-watched and listened to broadcasters, including Sky News, ITV Central and BBC Midlands Today.
As a member of Black Journalists' Collective UK, a network of 100+ freelance, contract & staff BAME journalists working in UK newsrooms, she took part in an initiative that urged editors across Britain to commit to improving representation in newsrooms by supporting their diversity manifesto.
Other topics you can look forward to:
How to grow your audience beyond loyal subscribers to build a sustainable revenue model
Beyond the shiny new things: devising and driving fundamental transformation in your news organisation
How mobile journalism is empowering citizen reporters, plus the latest tips and tricks to up your own mojo skills
…and much more
We are also running two workshops as part of Newsrewired+ on 26 November
A focus on practical, hands-on learning has always been at the heart of our events, and Journalism.co.uk will be hosting a full day of training the day before the main conference.
A Newsrewired+ ticket allows delegates to attend the conference (27 November) and one of the two full-day courses running the day before (26 November). Details to be announced soon.