By Chelsea Bailey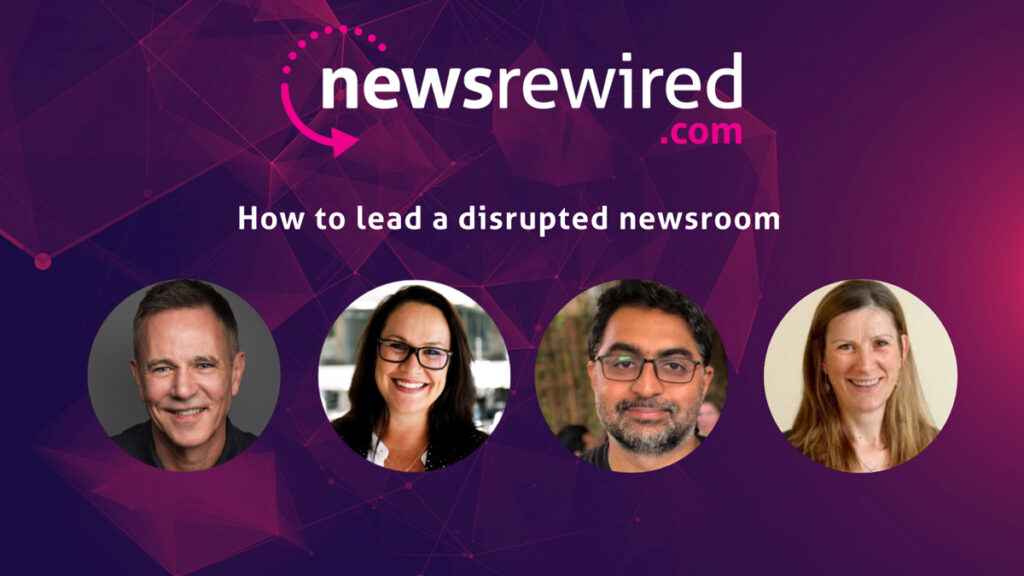 One of the biggest challenges for newsrooms during the coronavirus pandemic is continuing to lead change and innovation, while staff are burning out and the industry faces economic pressures.
This was pulled into focus at Newsrewired yesterday (1 December 2020). Alison Gow, audience and content director, North West, Reach, who spoke at the event, said that the regional news publisher found itself dealing with new working practices, putting staff on furlough and finally axing 550 jobs because of covid-19.
Despite these challenges, Reach launched two new websites: Hampshire Live and Northants Live.
Reinventing the newsroom
During the pandemic, audiences were turning to local titles to try and understand important messages from Westminster. At Reach, some staff were brought back from furlough to work on these new titles. Because all reporters were working from kitchens and bedrooms anyway, Gow said it was the perfect opportunity to experiment.
"Necessity is the mother of invention and the pandemic has dialled that up by ten," she says.
That does not mean it was easy. What made the process smoother was prioritising clear messaging to get teams on board with projects and also a deeper understanding from top-down.
"You need to repeat it many times so it's widely understood. [That] doesn't actually mean agreed with, that may not happen but if people don't understand why change is happening, they're never going to engage with it," she says.
"You [also] need to have compassion if you're telling someone their role is redundant. You're not with them, they're in an isolated space and you have to understand what they're going through."
Diversifying revenue and staff
Reader in media innovation and entrepreneurship at the University of Central Lancashire, François Nel agreed that change is key.
The first area where newsrooms need to innovate is revenue diversification.
"There's not enough subscription revenue in the world to make all the news operations profitable," he says.
"Over the next five years, we'll continue to see fewer people coming to paid-for print and digital products. So, we'll need to drive hard to innovate and find new ways to create value for our customers and communities."
Another important step is to have a diverse workforce.
Research by WAN-IFRA showed a 20 per cent growth in employment of male journalists since 2006, while female journalists numbers only grew by 4.7 per cent over that period.
It also found that those who were hired were more likely to be from upper socio-economic classes than from a working-class background.
"That matters because diversifying our audiences and reaching new people means that we need a diversified workforce. What we do matters to people," says Nel.
Staying connected
Independent media consultant Lisa MacLeod was previously head of digital at Arena Holdings in South Africa, and is currently working with the Women in News programme. She spoke about how African newsrooms struggled to work from home during the coronavirus crisis, facing obstacles that many of their peers in Europe or North America did not have to grapple with at the same level.
"This was because of the lack of connectivity, very high data costs and a lack of equipment. These are not newsrooms that are equipped with laptops, where people can just get up and go home and just log on to their 5G wifi. It's a completely different story," MacLeod says.
Many African newsrooms adapted to these pressures by using Whatsapp to communicate with reporters, managing news conferences and publishing news bulletins. They have also been using e-editions for their news products.
"E-edition in these newsrooms have become really central to their strategy because it's a form of digital distribution that they can manage and that readers are familiar with, because it's that transitory product between a print product and a full website."
Creating new tech solutions
Executive editor of Voice + AI for the BBC, Mukul Devichand agreed that creative use of technology has been vital in journalism during the pandemic.
At BBC, he and his team started a 24/7 update about the latest news on coronavirus on smart speakers, drawing from their news service.
Because audiences wanted to know what was going on in their local area, the team found a way for the BBC's 45 local newsrooms to publish a briefing via smart speakers.
"They instinctively began to understand what people might want when speaking to smart systems about where they live. Something that's local, something that's newsworthy but also something that fosters community connection," he said.
One of the obstacles to a better use of smart speakers to distribute information about the pandemic was that users were often asking open-ended questions that the technology cannot answer yet. This is how BBC Corona Bot was born.
"We created a conversational service powered by BBC journalism and NHS Digital material, we called it BBC Corona Bot and launched it on Facebook Messenger.
"Through that, we were able to advance this technology that we had began to develop and show the platforms that we not only have the material but the ability to understand people's queries."
To watch Newsrewired on-demand, register here