Home » Event news
#newsrw: Win a Flip Ultra HD camcorder!
To spread the word even further about our forthcoming digital journalism event news:rewired, we are enlisting the help of the Twitter army and offering you the chance to win a brand new Flip Ultra HD pocket camcorder, just in time for Christmas!
The entry requirement is simple, all you have to do is follow @newsrewired and tweet or re-tweet the following:
Come to #newsrw digital #journalism event 14:1:10. Follow @newsrewired & RT for chance to #win FlipHD http://is.gd/58NY8
The competition will close on Friday 18 December 2009 at 13:00 GMT and the winner will be selected at random and announced shortly after.
Prize Details:
Black Flip Ultra HD featuring
-8gb memory capacity allowing up to 120 minutes of recording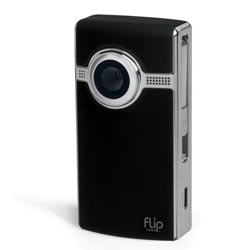 -960 x 240 recording resolution
-Transflective TFT screen
Competition entry terms and conditions
1. Competition entry is subject to the acceptance of these conditions.
2. How to enter: the competition requires entrants to both follow the @newsrewired twitter feed and retweet the following phrase 'Come to #newsrw digital #journalism event 14:1:10. Follow @newsrewired & RT for chance to #win FlipHD http://is.gd/58NY8'. The retweet must keep the entirety of the phrase intact to be valid for entry.
3. Competition will run from 11:00 GMT Friday 4 December 2009 until 13:00 GMT Friday 18 December.
4. Any entries received after 13:00 GMT on Friday 18th December will be void.
5. The winner will be selected at random from all correct entries received.
6. The judges' decision will be final.
7. Although every effort will be made to ensure the prize is with the winner before Christmas day this cannot be guaranteed and Mousetrap Media Ltd accepts no responsibility for late prize delivery.
8. Mousetrap Media Ltd reserves the right to discontinue the competition at any stage without reason.
9. The prize is both non-refundable and non-returnable. Mousetrap media Ltd accepts no responsibility for any harm, expense, liability or injury that may be sustained relating to or arising from participation in this competition or acceptance or use of the prize.
10. Employees of Mousetrap Media Ltd, those involved directly with the news:rewired event and their immediate families are not eligible to win.
11. The winner in accepting the prize authorises Mousetrap Media to publicise, in any media, his or her name, job title and Twitter handle unless prohibited by law.
12. You can re-tweet as many times as you like, but it will only count as one entry.
Related posts
Tags: Christmas, competition, flip, video, win