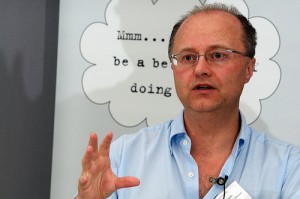 It's not enough to write the news, you've got to sell it too. That's the very simple message from news:rewired's second keynote speaker of the day, Marc Reeves, editor of thebusinessdesk.com's West Midlands edition and a former editor of the Birmingham Post, who stressed the importance of journalists pitching in with business leads.
Reeves took redundancy from the Trinity Mirror-owned Post at the end of the last year and became editor of thebusinessdesk's new Birmingham office in February – the free, local business-focused start-up was founded by former Yorkshire Post business editor David Parkin in 2008 and now has Yorkshire, north-west and West Midlands versions.
Be niche, be targeted, know your audience
His take on the future of news is that sites need to create niche, targeted content and that mass media publishing on what's currently regarded as a regional scale has very little chance of succeeding online:
Readers and viewers have always thought of themselves as niches – it's us publishers that pushed them into the mass media… Regional newspapers have fooled themselves that a community of 100,000 can be thought of as one.
For example, Reeves estimates that as many as half of all regional press readers are only interested in how their local football team is doing. But now readers can bypass the paper entirely and go online. Where does this leave advertisers and readers that don't care about football?
If you're serving a niche you have got to serve your audience in its totality… whether it's a hobby, business or area.
And it's not just about news: Reeves says niche publishers have to become relevant across a range of media and real-life events that matter to audiences, such as events, readers' clubs, and one-off products awards. The news part is only one part of this. To get more out of them you've got to be more relevant across other parts of [the audience's] lives.
"In business terms it's never been about content – in print and online it's about the relationships you build with readers and advertisers."
All the news that's fit to sell
Reeves says he's worked with reporters who regard "passing on a sales lead as defiling the memory of CP Scott". But these people have got to get business-savvy, he says: "People say 'I'm not a journalist, I don't sell advertising'. Well tough. We tried it the other way and [the model] broke.
"Journalists need to grow up and realise they are part of the business."
As for thebusinessdesk's progress, Reeves claims the west midlands site now has 5,000 registered users – reaching and beating its full-year target within a month – and that across the entire business there are now 40,000 registered users.
Each of those readers gets a daily regional email every weekday – something Reeves describes as vital to the news operation, bringing in 80 percent of traffic: "We send daily emails just before 9:00am because that's when people make their decisions for the day."
Incidentally, Reeves says he was "pretty close to putting together a business plan and finance to launch something very similar" to the site he now runs, before he was put in touch with Parkin.
Returning to a theme he expored in a recent speech to the West Midlands CBI, Reeves warned that regional newspapers may understand and invest in online publishing, but they were "structurally" unable to make money from it:
The saying is you make a pound on the print product and a penny online, and that's mostly true. That's only a problem if you're trying to make newspaper profits from that penny you make online. Of course from that point of view… it's almost impossible to turn that supertanker around.
Interview with Marc Reeves: