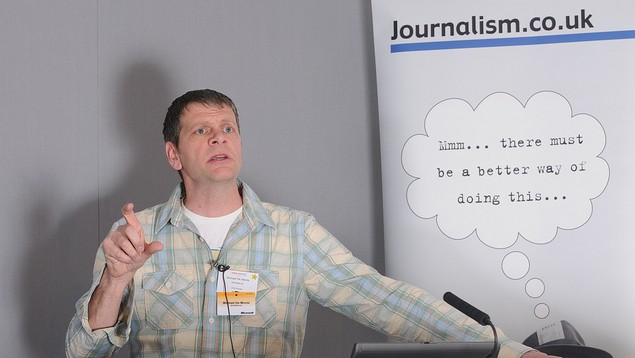 Liveblogging platform ScribbleLive is to open up its syndication marketplace to allow freelancers to get paid for creating content for its clients.
ScribbleLive founder Michael De Monte (pictured) said the syndication marketplace, which will launch next year, will allow individuals who sign up to its freelancers' plan to make money when they are covering or talking about live events online.
ScribbleLive already has a syndication marketplace for large organisations like Thomson Reuters and they plan to extend this service to other paying subscribers.
Speaking at news:rewired, De Monte said the product would help media organisations to cover breaking news from all over the world.
"You can't be every place, every time," he said. "Hopefully there will be a journalist producing that content and it can go into system."
De Monte said that information from liveblogs had been used by Canadian emergency services to update transport users about road closures during a snowstorm.
Other uses of ScribbleLive include the Canadian sports website TheScore, which designated a "superfan" for each team and gave them responsibility to curate real time action from matches.
The syndication market will be opened in January or February next year along with another piece of technology designed to bridge the gap between real time content and a more polished finished project
In the same session Martin Stabe, interactive producer at FT.com said there was still a need for specialists. Channel 4 News commissioning editor Vicky Taylor agreed, adding that one-size-fits-all doesn't work. "It would be lovely if it did," she said.
But Jonathan Richards of the Times' data teams said you can learn coding quickly if you have to. Coming from a background in print journalism, he could not write a single line of HTML until he joined the team two years ago, he told the audience.