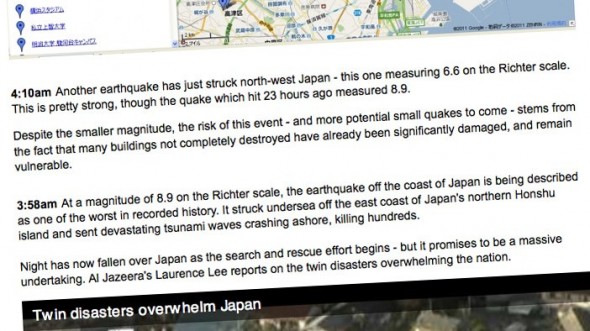 Liveblogging has been called a lot of things lately, from the "death of journalism" to the "embodiment of its future".

However you feel about it, it is a big issue for online journalism. Never more so than now in fact, after an unprecedented glut of fast-moving international stories, along with domestic coverage of civil unrest, have brought the format to the forefront of online news coverage.
Reuters, Al Jazeera, the Guardian, the BBC, CNN: just a few of the major news organisations making liveblogging a significant part of their news operations. That's not to say that it is restricted to major news outlets, far from it. From regional newspapers liveblogging council meetings to students liveblogging protest marches, the open format has the potential for a far-reaching impact on journalism.
It was liveblogging, the judges said, that helped Andrew Sparrow to a British Press Award this week for Political Journalist of the Year. And it was liveblogging that led his colleague Adam Gabbatt to be highly commended in the Young Journalist of the Year category.
The format isn't perfect, of course. Some have complained that it is incoherent and lacking in context and analysis. Others that it's tough to make sense of it if you tune in halfway through.
But the practice of liveblogging is still youthful, the art of it still being honed. It is in that early stage of rapid development and rethinking. Liveblogging clearly isn't as simple as throwing everything in and hoping for the best, careful decisions need to made about what stories suit the format, what information to include, how to balance immediacy with verification, and how to mix hard news, analysis, and user-generated content without losing track.
So where do we stand today? How is liveblogging affecting the way that journalists and newsrooms work? Is it destined to become the de facto way of covering breaking news and fast moving stories online?
The final session of news:rewired will take a close look at the practice of liveblogging and what it means for online journalism, hearing from those using the format day-to-day, as well as looking at prominent case studies and opening the issue to debate.
Feel free to leave your thoughts or suggestions about the session below, or get in touch with us via Twitter: @newsrewired / #newsrw.
Speakers will include Guardian blogs editor Matt Wells. More speakers will be announced shortly.