Home » Event news, Featured Posts
10 lessons learnt at news:rewired – connected journalism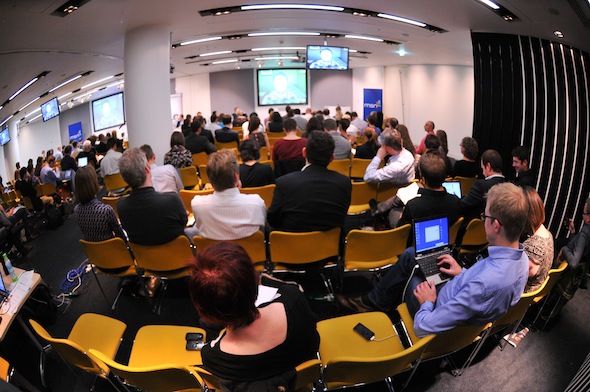 As one of the WannabeHacks I was helping to cover news:rewired – connected journalism with Journalism.co.uk, and have assembled the biggest things I learnt during the day.
1. The use of Facebook and other social networks in finding news. Helje Solberg from Norwegian newspaper VG told the conference how the paper was able to get more information about the Norway bomb and shootings this summer from young people on Utoeya. They did of course face problems with verification and as a result, a lot of the information couldn't be used until it had been verified.
2. How important it is where people sit in a newsroom. Being a student, places within a newsroom is not something I had really considered before, but the session on Newsroom Architecture really got me thinking. James Weeks of Sky News said that the architecture of a newsroom is really important and in an ideal world they would have had all of their staff sitting in together.
3. The importance of citizen journalism. Philip Trippenbach, editor-in-chief of Citizenside, said in the session on Business Models in Community Journalism that a blogger or photographer from an area where something newsworthy has happened would be more use in taking pictures or writing than someone you send in from outside.
4. The motivation behind citizen journalism. Philip Trippenbach also spoke about how it is not the financial rewards that motivate Citizenside users but actually the desire to share the stories that are relevant to them. He said: "It's a willingness to share the news that motivates them."
5. How important knowledge is in journalism. Henry Peirse, CEO of GRN, reminded us that "journalism is about knowledge, it's about a beat and knowing that beat." With the rise of online reporting it has become easy to forget the importance of really knowing your stuff in journalism, with a quick Google search anyone can appear to know about something, but journalism is about knowing a subject or an area inside out.
6. How investigative journalism has adapted in the social media world. Before, investigative journalism was about hiding what you were looking into from everyone, even your editor. But Paul Lewis, special projects editor at The Guardian, said that investigative journalism is now being done in the open, encouraging collaboration with the audience. Lewis said: "From now on, any investigation we will be doing we will be tweeting about."
7. The use of tweeting in collaborative investigations. Paul Lewis talked about how he reported the London Riots in August and how he gained thousands of new followers, who he refers to as collaborators. He spoke of how they helped with everything from advice on places where there was trouble to cups of tea and providing places to recharge mobile batteries.
8. The problems that the introduction of the FOI Act has introduced. Simon Perry, founder of the Ventnor Blog, told of how the Freedom of Information Act has started to cause a problem for him as a journalist running a hyperlocal news site. He said press offices often delay information by insisting that a freedom of information request is submitted before the information is given.
9. The scoop is dead. Paul Lewis pointed out that it's no longer important who gets the scoop. He said: "What's more important is that the truth gets out – not who put it out or how. It's a really exciting time." Even Simon Perry admitted that the panel had made him rethink his views on getting the scoop. He said: "We like getting the scoop, it's fun. But this panel has made me think maybe we need to change that."
10. Liveblogging and how to do it. In the final session of the day, Anthony De Rosa of Reuters and Duncan Hooper of MSN discussed a lot about liveblogging. Hooper said linking to another person's story was by far the quickest way to get news on MSN. He explained how the MSN liveblog of the Norwegian shootings was almost entirely a collection of links to other people's Tweets.
Related posts