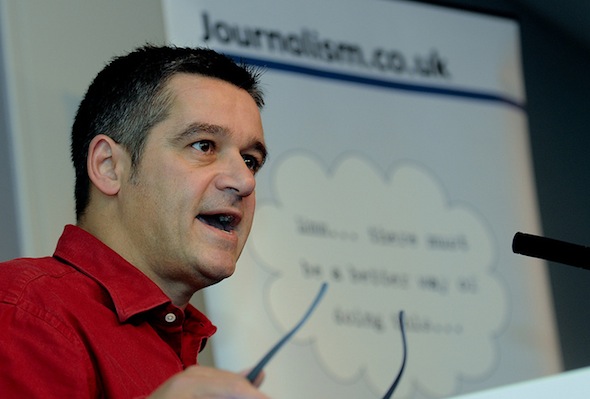 Charlie Beckett, founding director of POLIS, opened news:rewired – connected journalism with the keynote speech. He spoke with enthusiasm about events like today's and moved on to look at what has gone in the last five years and what, in his opinion, is yet to come.
He said how his book, SuperMedia, released in 2008 and at the time aspirational, is now a reality. Beckett joked how the Guardian's announcement of its digital first strategy seems "like the Vatican announcing the Pope was Catholic", as he feels it is something the news organisation has been doing for years.
Beckett also commented how we are in an age of uncertainty, not just with journalism but also in terms of the environment we operate in. However, this, Beckett says, makes it an exciting time to be a journalist and make sense of the chaotic world, saying "journalists should be helping to filter, connect and understand".
But the future is not going to be easy, Beckett warned. Journalists need a whole new set of skills. And they need the payment processes to enable this to become a reality, he explained.
Beckett said journalists should care about the craft as much in this digital age as before the advent of the internet, and urged those at news:rewired to "go forth, connect and innovate".
Hear from Beckett in this SoundCloud summary of his address.
Charlie Beckett, founder of POLIS, summarises his key messages for journalists by journalismnews