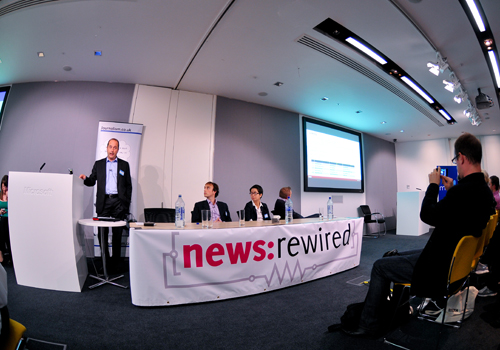 The sixth news:rewired will be on Friday, 3 February at MSN HQ, London.
What is it? news:rewired (#newsrw) is a one-day conference on the latest developments in digital journalism. Organised by Journalism.co.uk, it is an opportunity to hear key industry speakers and learn about the latest trends and tools.
Who should attend? Journalists, industry professionals, social media coordinators and PRs.
We are currently putting together the programme and will announce the sessions over the next few weeks.
Previous news:rewired speakers include Xavier Damman, co-founder of Storify; Heather Brooke, known for her role in bringing MPs expenses to light; Simon Rogers, editor of the Guardian's Datablog and Datastore; and Steve Herrmann, editor of BBC News.
What have people said about news:rewired?
Hannah Waldram, community coordinator, news, at Guardian.co.uk
news:rewired is a great way for practising journalists or burgeoning students to find out what's new and developing in the industry. Not only a good excuse to meet other practitioners and key industry players, the event is also a great instigator to ideas and debate on issues around journalism today.
Rebecca Thomas, BMA News
Very good value for money. I've paid five times as much for less useful events in dreary venues.
Adam Tinworth, editorial development manager, Reed Business Information
Unlike too many journalism conferences, news:rewired has a great history of getting those actually implementing changes and pushing the boundaries of news innovation in front of an audience of their peers. More practical experience, less theoretical strategy: exactly what the industry needs right now.
Chie Elliott, freelance journalist

I never miss a news:rewired event. Whatever the theme you always walk away with something useful to use and think about. I love the networking in between sessions.
To discuss sponsorship opportunities contact Steff Bull or James Hollobone. Previous partners include MSN, Reuters, SoundCloud, Tableau, PageSuite, Buzzdata, Audioboo, ScribbleLive, Sonocent, Kyte and the Video News Agency.
You can book a ticket to the next news:rewired here. Tickets are £130+VAT.