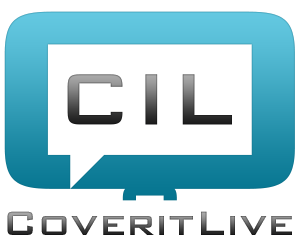 We are pleased to announce liveblogging platform CoveritLive as the latest sponsor of news:rewired – digital stories, Journalism.co.uk's next digital journalism conference.
The one-day event, which takes place on Thursday 6 December at MSN UK's offices in Victoria, will be geared towards equipping delegates with knowledge of the latest techniques and tools for producing top-notch digital journalism, as well as offering insight into some of the innovative projects evolving within today's newsrooms, and outside of them.
CoveritLive is used by news outlets to collect and publish live coverage of events in one place, with the ability to also feature and answer questions from the audience within the platform. And according to CoveritLive more than 20,000 events are covered using the platform each month.
Demand Media's senior director and general manager for CoveritLive, Ben Schneider, will be joining the liveblogging workshop at news:rewired – digital stories, where he will share top tips for liveblogging success and making the most of the platform.
Schneider spoke about real-time reporting and the live stream of news on a panel at a previous news:rewired conference. Here is more on some of the tips shared by him and the rest of the panel then.
The CoveritLive team is "very excited to once again participate in news-rewired," they said. "The opportunity to share our observations and learn from others' take on emerging trends in digital and real-time journalism is invaluable and core to what we do."
There are still tickets available for news:rewired, but be quick as the event usually sells out. Tickets for the one-day conference can be purchased at this link for just £130 (+VAT). Lunch and refreshments will also be provided, as well as networking drinks afterwards.
There is also a news:rewired PLUS ticket option for just £310 (+VAT), which includes both a day's intensive training on the Wednesday (5 December) and the day-long conference on the Thursday (6 December). Delegates can choose one of three two options for the day of intensive training: Introduction to Data Journalism, run by Paul Bradshaw; Online Media Law, run by David Banks or Advanced Online Research Skills, run by Colin Meek. (Advanced Online Research Skills now sold out).
You can buy either of these tickets at this link. If you select a news:rewired PLUS ticket we will contact you to confirm which training course you would like to attend on the Wednesday and provide further details. Space on these training courses will be limited and running of them will be subject to demand.
Homepage image by ilouque on Flickr. Some rights reserved.