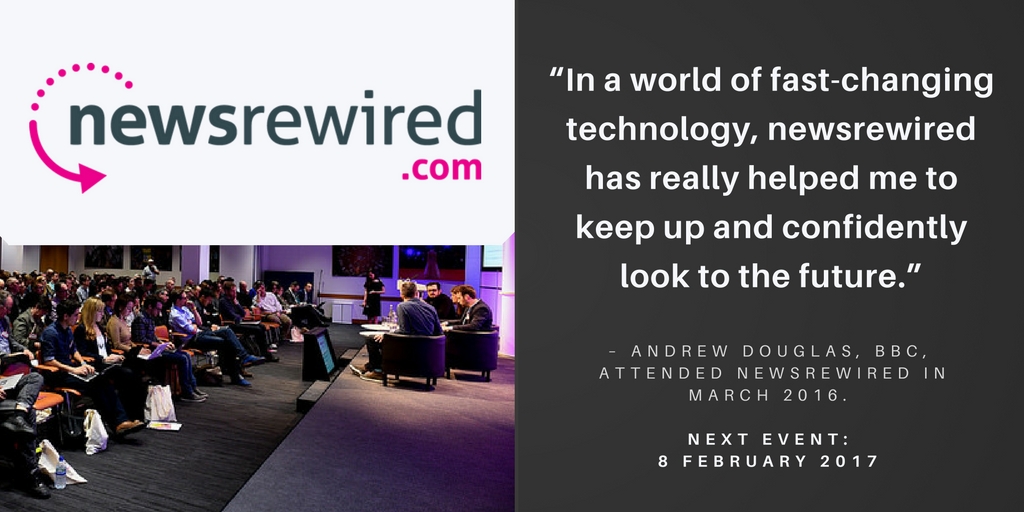 With under two months to go until the next newsrewired digital journalism conference, the agenda for the event is taking shape. Today the Journalism.co.uk team is pleased to announce speakers from BuzzFeed and the Financial Times will join us on stage at newsrewired.
The next event takes place on 8 February 2017 at Reuters in Canary Wharf, London, and will be followed by a full day of training on 9 February.
As usual, sharing lessons and practical advice about digital journalism is at the heart of newsrewired, and the agenda will include a mix of panels and workshops throughout the day.
Tickets are available for 180+VAT – book yours here.

Newsrewired+ tickets, which include access to training on 9 February, are available for £368 +VAT.
What's new?
Andy Dangerfield, UK social media editor at BuzzFeed News, will be joining the opening panel on live social video, sharing insights into BuzzFeed's efforts with live video on Facebook and other social networks.
Since joining BuzzFeed News at the start of this year, Andy has been at the forefront of delivering BuzzFeed's news and political coverage on new platforms. He organised BuzzFeed's EU referendum Townhall Facebook Live event, in which leaders including David Cameron and Nicola Sturgeon answered questions from a live studio audience, attracting 7.7m viewers.
Before joining BuzzFeed, Andy worked for BBC News, as a senior reporter for @BBCBreaking, as well as a producer for Newsnight, Panorama, BBC World and BBC London. Alfred Joyner, head of video, IBT Media, and Sue Llewellyn, founder, Ultra Social, will be on the panel alongside Andy.
---
Martin Stabe, head of interactive news at The Financial Times, will join our workshop on making data visualisations for mobile devices, alongside Colleen McEnaney, graphics editor, The Wall Street Journal. 
Martin leads a team of data journalists, designers and web developers tasked with producing innovative, data-driven forms of online storytelling for FT.com. The team supports FT investigations with data collection and analysis, and produces news applications, interactive graphics and online maps.
The agenda for the day also includes a workshop on online privacy for journalists, a session on automation in the newsroom, a panel on special projects, and spotlight talks on newsgames and collaborative journalism.
---
Newsrewired training
Journalism.co.uk will also be hosting a day of training at Reuters on 9 February 2017.
Delegates can also register for newsrewired+, which will give them access to the conference on 8 February and one of three hands-on workshops the following day. Newsrewired+ tickets are available for £368 +VAT.
They represent a 10 per cent discount compared to booking tickets for both days separately.
Choose one workshop from:
• Video storytelling: How to create powerful and imaginative video editorial
• Finding stories in data: Intermediate Excel skills for digging deeper
• Audience engagement and managing communities
More details about the courses are available here.If you'd like to suggest topics of discussion at the next conference or if you'd like to get involved as a speaker or sponsor, please get in touch by emailing catalina [at] journalism.co.uk.