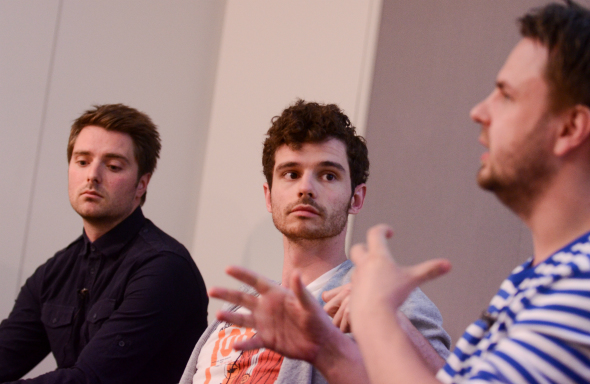 Three people from the coalface of start-up journalism explained their business to the news:rewired conference in London today.
"Local media is broken," says Stuart Goulden, founder of York's One & Other, "there's a whole generation which will never read a local newspaper and this is down to the product, not the medium."
Having started One&Other from his bedroom on £2,000 in 2011, Goulden's site was nominated for digital innovation of the year at the British Press Awards in 2012 – alongside the Financial Times, the Guardian and The Daily Telegraph – before launching a video and print edition this year. He has reason enough to be confident.
Goulden puts the success of One&Other down to what he calls "solutions journalism", registering as a Community Interst Company and focussing on social issues alongside culturally relevant content.
"We're big on culture, big on news and big on social issues," said Goulden. "We work with charities and community groups to solve problems and engage with issues."
It is this niche of social interaction and responsibility that Goulden believes draws the crowd, despite a lack of professional journalists, relying on what he describes as "three or four thousand" local contributors and a strong partnership with the local creative community.
A savvy business sense and doggedly pursuing specific revenue streams, like advertising, branded content, marketing and curated consumption, ensures that the website not only stays afloat but continues to expand.
"Keeping cots low is absolutely crucial," continued Goulden, "if you don't have to pay for something then don't.
"But if you can rally people behind your ideas then that will make the difference."
Adam Westbrook takes a different approach: micro-publishing a web-native magazine called Inside the Story.
Westbrook originally published Inside the Story as an ebook to raise money for charity, offering the thoughts of 25 well known digital story-tellers on how to better tell stories in the digital age. In 2013 he's bringing the title back as a quarterly magazine but beginning with the question: What does a magazine that's made of and for the internet actually look like?
"People are still thinking in the wrong way," said Westbrook, "people are still making video for TV and uploading it to Youtube and the same is happening with print. We're not asking the right questions about how we publish these things on the internet."
To this effect, Inside the Story is presented in only two colours, to maximise multi-platform accessibility, and is designed to be read in a constant downward scroll without pages or links.
Rather than using advertise as the main revenue stream the quarterly magazine is purely paid for on a subscription basis at either £4 per issue or £12 for four, a model which Westbrook said was suprisingly successful.
"There is nothing to be ashamed of in running an intentionally small profitable business," he said, and while it will not be enough to sustain a family it is a successful first step.
James Fyrne started So Glos, an online culture magazine for the Gloucestershire area, from a garage in 2007 but has long since moved into an office alongside an editorial team of professional journalists, designers and film makers.
From such an inauspicious start So Glos now receives around 82,000 unique monthly readers, emails a weekly newsletter to 23,000 recipients and has an annual turnover of £250,000 with £100,000 profit.
Fyrne said that much of the revenue is based on advertising, be it single banners or entire section sponsors, but the key is in ensuring the end product is of the highest quality.
"You've got to fulfil a niche," he said, "you can't scrimp on quality and you ave to be better than your competitors. Be an expert in your field so readers will come to you first with what they want to know."
By broadcasting the fact that So Glos is run by three full-time journalists specialising in theatre, comedy, art and music the website is a trusted resource and has become, according to Fyrne, one of the country's few independent, online-only regional media sites.