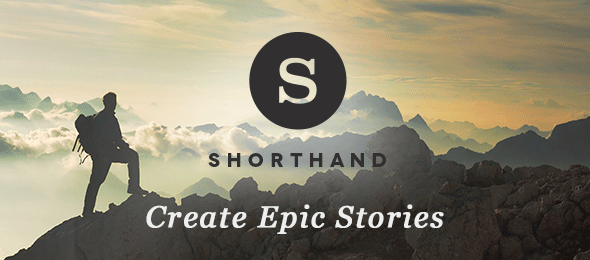 We're pleased to announce digital publishing platform Shorthand, which can be used to create visually compelling and interactive stories online, as the latest sponsor of digital journalism conference news:rewired.
The one-day event takes place on Friday 20 September at MSN UK's offices in Victoria, London. Delegates will enjoy a day filled with inspiring presentations, practical workshops and valuable networking time. The conference sessions will cover areas such as breaking news, online video and searching social media. Workshops will also cover essential skills in mapping, verification and using LinkedIn, as well as understanding audience data and building it back into editorial decision making where appropriate. Here is a link to the agenda.
The conference will close with a session focusing on new, innovative ways news outlets are telling stories online, in ways which break standard article boundaries, featuring Shorthand's executive manager Ben Fogarty.
Fogarty recently appeared in this Journalism.co.uk podcast on interactive video, and at news:rewired he will share with delegates his experiences and insights into breaking with conventional digital storytelling styles, using platforms like Shorthand.
Shorthand allows content creators to effortlessly create interactive stories using an impressive array of in-built features.

The Brisbane-based company's first public appearance was a collaboration with the Guardian Australia in July; the product itself is under development, and will be released later in 2013.
The Guardian project saw Shorthand used to create a compelling piece of long-form storytelling, split into chapters, covering competition in sport between England and Australia.
The final panel at news:rewired will also include Francesca Panetta, multimedia special projects, the Guardian; Mathew Ingram, senior writer, GigaOm and Jason Mills, editor, web, ITV News.
Tickets are still available for the conference, for just £130 +VAT, but the event is expected to sell out so buy now to avoid disappointment.