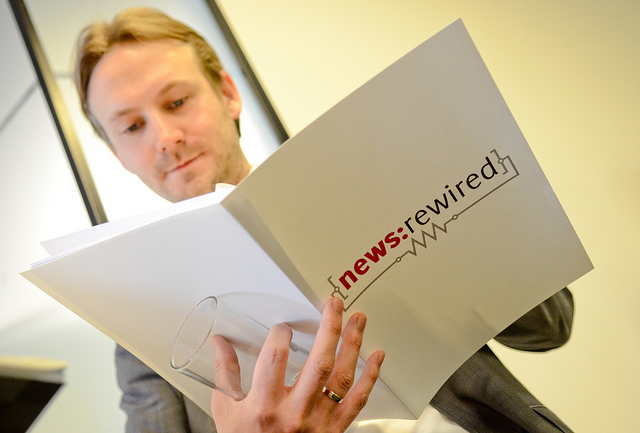 We're counting down the days until our next digital journalism conference news:rewired, which takes place in London on Friday 20 September.
A handful of tickets are still available, but will sell out very soon. Buy now for just £130 +VAT. (This event is now sold out).
We have a fantastic line-up of speakers from news outlets including BBC News, the Guardian, GigaOM, Quartz, ITV News, Wall Street Journal, VICE UK and many more.

The day will include a full-conference panel session on breaking news, looking at the different ways news outlets cover breaking news on digital platforms, sharing best practice tips and practical applications.
Following a quick lightning round – which will showcase some of new and innovative tools and platforms coming out of the digital journalism industry – and coffee break, the conference will split into two streams until later in the day.
Sessions and workshops running in parallel include:
online video or searching social
data-driven newsrooms or verification
LinkedIn for journalists or mapping
Later in the day delegates will return to full conference for a panel on lean start-ups, a five minute sponsor presentation, and the final session on breaking article boundaries, which will look at some of the ways news outlets are delivering stories in ways which break out of traditional online publishing formats.
Speakers confirmed for the event include:
Jay Lauf, publisher, Quartz
Jason Mills, editor, web, ITV News
Neal Mann, multimedia innovations editor, Wall Street Journal
Chris Hamilton, social media editor, BBC News
Francesca Panetta, multimedia special projects, the Guardian
Mathew Ingram, senior writer, GigaOM
Al Brown, head of video, VICE UK
Richard Moynihan, social media and community manager, Metro
Claire Wardle, director of news services, Storyful
James Ball, data editor, the Guardian
and many more…
All that for just £130 +VAT!
The event is being held at MSN UK's offices in Victoria, London.