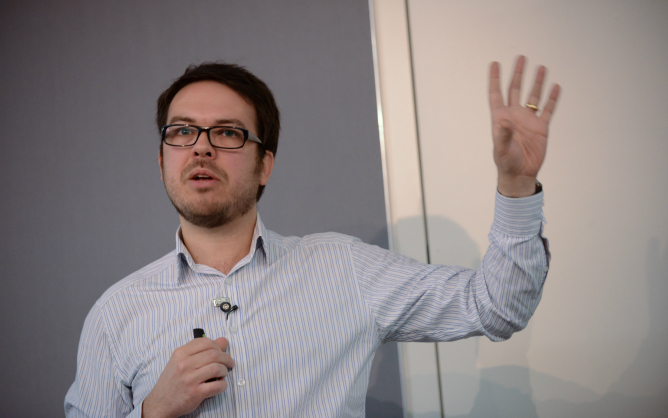 The opening session of the 10th news:rewired conference, held today in London, was an open panel discussion on approaches to breaking news.
Alongside Justine Mackinnon, co-founder, CrisisMappersUK and community leader, Ushahidi, were Paul Quigley, chief executive of NewsWhip, ITV news web editor Jason Mills and BBC news social media editor Chris Hamilton; the four traded amicable blows over the doctrine of speed or accuracy.
Accuracy and engagement
At the BBC, Chris Hamilton said, speed is important, but for the audience the accuracy of the reports trumps how quickly they are announced every time.
For example, with the story about the death of Margaret Thatcher, the BBC were not the first to break the news but Hamilton said the organisation "dominated" the worldwide social engagement.
He admitted that this was partly due to the BBC brand, but also the content:
It's good, high quality and has added value. Everyone can break the news that Thatcher has died but it's what you do and what you add after that.
How the BBC newsroom is set up is intended to reflect this philosophy, he added.
Newsdesk duty editors are the heartbeat of the newsroom, said Hamilton, and, at the BBC, writers and producers for the organisation's social media accounts are within arms reach.
These "social news writers" are plugged into news wires and social media lists that are set up and quickly accessible. The big challenge though, he said, is not being overwhelmed with information so it is important to have your sources established quickly and in advance.
The importance the BBC places on accuracy means that the early stages of breaking news are more tentative in establishing what information is accurate.
He told delegates:
In the early stages of breaking news you need to tread very carefully with audiences about what you know, what you don't know, and who your audiences are.
Approaching the facts quickly and having established networks and experts to help verify evidence and corroborate stories is vital.
Speed and aggregation
"Breaking news is in our DNA," said Mills. "In a crowded market place you have to be different."
The ITV news site displays stories in a stream of updates, he said, with an emphasis on bite-size chunks of information rather than a comprehensive overview or analysis of the whole story.
Readers can delve deeper by region or topic, and trending stories of the day are displayed down the side, but everything revolves around the stream and regularly updates.
As with the BBC, this is a reflection of what ITV's audience expect.
Mills said that digital readers of news are "skimmers" – looking to glance over the news and get an overview of the major stories of the day – and "diggers" – those who know what they are looking for and will dig deep to find out more.
Of the visitors to ITV News, 80 per cent are skimmers compared to 20 per cent diggers, said Mills, so aggregation and attribution play a large part in ITV's news stream.
He said:
Breaking news is a collaborative business, it's not about ownership.
Producers, who may be working on four or five stories at a time, are told to always attribute, credit and link to sources. This lets the audience know where an update has come from, but also means ITV can cover their backs should the update prove to be inaccurate.
Adding video and images, largely from social media, is also vital to the stream, said Mills.
When a large story breaks, like the recent shooting in Washington, all the news producers focus on pulling as many reports and as much content as they can from around the web – tweets, pictures, video and official reports.
Both Mills and Hamilton agreed that speed and accuracy are key and neither should be given greater precedence by the news organisation, but giving the audience what they want is what matters most.