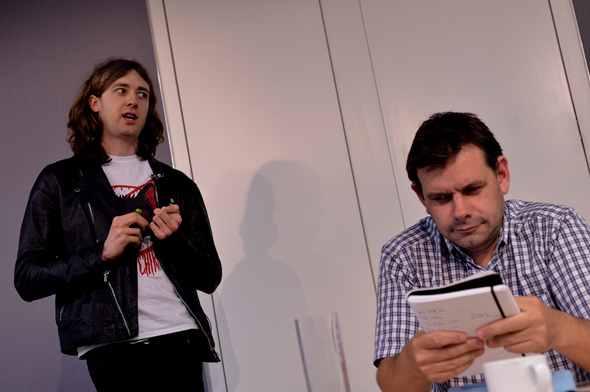 Vincent Dignan (left) and Martin Belam (right)
At news:rewired on Friday (20 September), Vincent Dignan, founder of Planet Ivy, explained how the site aimed at young people uses lean start-up principles.
Planet Ivy launched and quickly adapted based on what was successful. For example, two sections were scrapped as they were found not to be popular.
Planet Ivy has contributors who are given feedback on their writing. They are currently unpaid but the plan is to give a revenue share.
.@vincentdignan tells #newsrw Planet Ivy writers get quality feedback and tips from 6 experienced editors. Hope to pay as business grows.

— David Holmes (@spikefodder) September 20, 2013
The Planet Ivy mantra is 'don't publish anything boring'. Here's more on Planet Ivy.
Vincent Dignan's presentation:
Martin Belam, project lead on UsVsTh3m, a mobile-first site from  Trinity Mirror, talked about the first four months of the site. It went from idea to launch in just five weeks, which you can read about here.
USVsTh3m – no long articles, built on Tumblr. Build fast. Iterate fast. 'The Toys are our USP. #newsrw — Mr Anderson (@kevglobal) September 20, 2013
.@martinbelam UsVsTh3m target audience similar to Buzzfeed, but with a more British slant and a 24hr cycle #newsrw

— John Thompson (@johncthompson) September 20, 2013
UsVsTh3m 750K uniques after 1st month – 1% from search. It's all about social. #newsrw

— Sarah Marshall (@SarahMarshall3) September 20, 2013
Martin Belam's presentation: