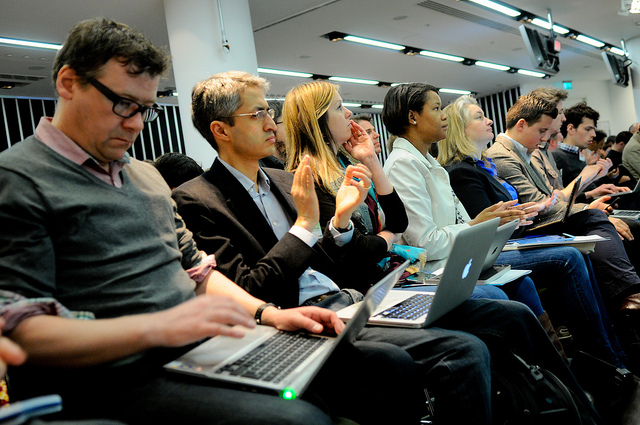 We're happy to announce that digital tickets for the next news:rewired are now available, so even if you can't make it to the conference itself you still have a chance to catch the talks and sessions from the day.
The event, at MSN HQ in London on Wednesday 23 July, brings leaders in digital journalism together to discuss their work, share advice and lead workshops in relevant areas.
As well as the networking opportunities and extra materials available on the day, there will be focused post-lunch workshops looking at mobile apps and tools for journalists; creating immersive, longform stories; and using analytics to understand the audience.
While these workshops will give delegates a practical, hands-on guide to the particular subjects, they will not be filmed, and will not be included in the digital ticket offering.
There is also a full day of training the day after the conference, with a choice of courses in mobile journalism with RTÉ's Glen Mulcahy, data journalism with Conrad Quilty-Harper of Ampp3d, or creating a buzz on social media with BuzzFeed UK editor Luke Lewis.
The full agenda is now available, including:
New digital skills, tools and tips
Sharing skills and lessons is an important part of news:rewired. Some of the topics to be discussed include:
How to make articles and stories more engaging with freely available interactive tools
Advanced search tips for stories through documents, reports, data and social media
Spreadsheet skills to quickly find news lines in large data sets
Developments in the industry
Journalists and editors from leading news organisations around the world will share their work and ideas on where the industry is heading.
Ideas on "the mobile revolution" from the Wall Street Journal's David Ho
How collaboration between news outlets, journalists and readers is becoming increasingly common and beneficial
Why chat apps are becoming a popular way for readers to get their news
Digital tickets are priced at £100 +VAT, and videos will be available within a week of the event.