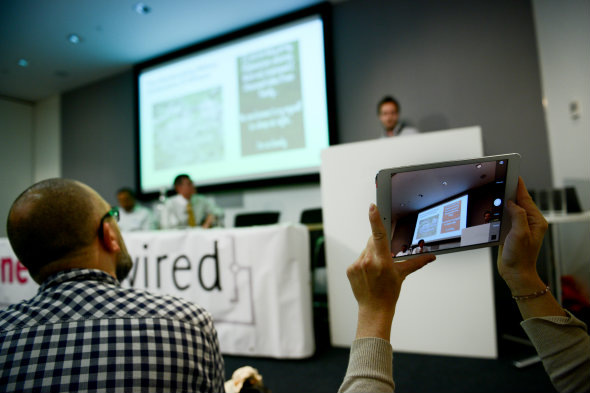 With just 10 days to go until the next news:rewired we are excited to announce our final speakers, as well as three optional lunchtime workshops.
Eric Athas, senior digital news specialist at NPR, and Neelay Patel, senior vice president of incubation and innovation at The Economist, will be joining Anna Doble on the New Wave in Audio session.
Didier Hamann, editor-in-chief of Le Soir in Belgium, will be joining the Engaging Younger Audiences session to talk about the outlet's project #25, alongside Jeroen Zanen of Crowdynews.
Christian Payne, blogger, trainer and creative technologist, will be revealing some of his favourite apps and tools for creating interactives in the visual storytelling session.
And last but not least, Paul Gallagher, digital innovations editor at the Manchester Evening News, Ben Kreimer of the Drone Journalism Lab and Julia Wurz of Bullet News will be discussing drones, Google Glass and smart watches on the emerging technology panel.
Lunchtime workshops
For the second time we will be running three optional lunchtime workshops at news:rewired. Please note that entry for these workshops is limited with entry on a first come, first served basis.
1) Exploring and visualising data
A live demo by Tableau data analyst Sophie Sparkes, where delegates will learn how to explore datasets and visualise stories with Tableau Public.
2) Mobile video journalism
Learn how to produce great-looking video with your smartphone in this workshop led by BBC College of Journalism trainer Marc Settle.
3) Essential podcasting skills
Corinne Podger, journalism trainer for Thomson Reuters Foundation, will run through some tips and tools for producing compelling podcasts.
The full news:rewired conference is now fully sold out, although there are still places on two special news:rewired+ training courses at MSN UK's office in London the following day:
Eyewitness media: etiquette, ethics and law
Led by Jenni Sargent and Sam Dubberley of the Eyewitness Media Hub, this course will teach you about the ownership rights of different social networks, how to legally and appropriately secure consent to use material found on social media, and much more.
Introduction to infographics
Lulu Pinney, a former infographic designer for BBC News Online, will explain what underpins a successful infographic, from simple comparisons through maps and charts to diagrams, networks, processes and explanations.
Follow @newsrewired on Twitter and keep an eye on the hashtag #newsrw for updates from the conference.