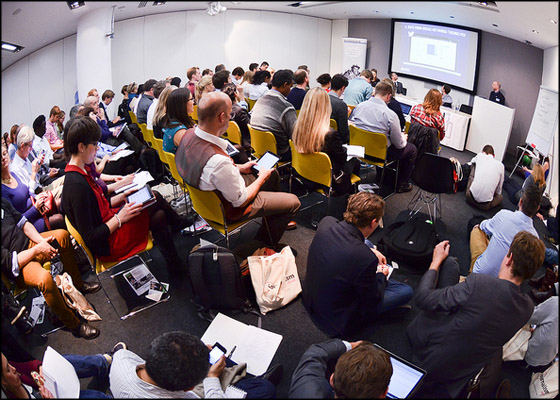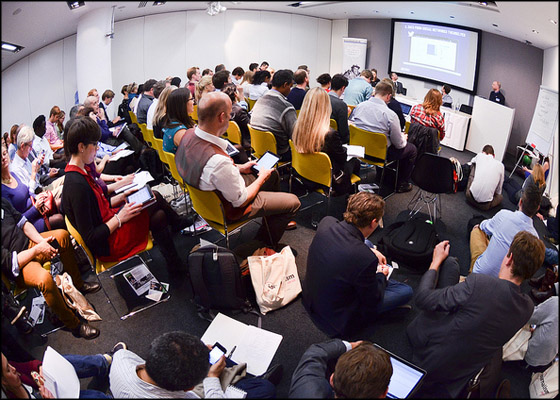 We are now pleased to announce the agenda for the next news:rewired digital journalism conference, to take place in London on Wednesday 23 July.
The event, organised by Journalism.co.uk, aims to showcase the latest developments in the field and offer journalists a range of practical sessions and workshops.
For the first time, there will also be a range of optional sessions over an extended lunch period, where delegates can get some focussed guidance on a number of topics, or use the extra time to network and enjoy their lunch.
Some speakers are yet to be confirmed, but we can now provide details on the choice of sessions available on the day. You can also see the plan for the full agenda on the news:rewired website.
Keynote
The Wall Street Journal's editor for mobile, tablets and emerging technology, David Ho, will open the conference with a keynote speech on how reporters and news outlets can "embrace the mobile revolution", looking at new ideas for storytelling.
Sourcing stories online
How can journalists sift through the overwhelming diversity of online information to find important, hard-hitting stories? And how do they make the most of that information once they have it?
In this session Mark Watts, editor-in-chief of investigative journalism site Exaro, will look at finding documents and reports online and how best to make FOI requests; Cynthia O'Murchu, investigative reporter at the Financial Times, will show delegates how to find and understand datasets; and Heather Bowen, head of social media at Mirror Online, will look at the wealth of stories available on social networks.
Private social networks
As more of the world's population pick up web-connected smartphone, so do many start using private social networks and messaging apps. But how can journalists and news organisations reach this audience more directly.
Trushar Barot, assistant editor at the BBC's user-generated content and social media hub, will discuss how apps like WhatsApp and WeChat can offer new ways to reach an audience, alongside editor of Buzzfeed UK Luke Lewis and other speakers yet to be announced.
The journalist's social media toolbox
Being adept with social media can help journalists to not only find sources for stories, but to get their articles out in front of a wider audience. The Wall Street Journal's social media ediotor EMEA, Sarah Marshall, and thhe Telegraph's social media editor, Richard Moynihan, will look at a variety of tools, tips and techniques for the job.
New forms of engagement
The opening session will look at the growing need to actively engage readers in stories. Among the speakers are Nathalie Malinarich, mobile editor at BBC News, who will discuss the organisation's experiments using visual journalism on social and mobile, Ezra Eeman, founder of Journalism Tools, will run through a host of free tools for making stories more interactive.
Optional lunchtime sessions include:
Building immersive, longform stories
Shorthand CEO Ben Fogarty will give delegates a hands-on workshop in building media-rich, longform stories with his companies platform, and best practice in approaching the medium more generally.
Understanding the audience
Delegates can learn how to use analytics to gain insights into your audience in this workshop with Parse.ly's Clare Carr.
Mobile tools and apps for journalists
Keynote speaker David Ho will lead a workshop looking at mobile tools and apps for journalists, with an eye on photos and video.
Other workshops include:
A workshop on spreadsheet skills for journalists led by the Financial Times's John Burn-Murdoch, explaining how to find news in large, cluttered datasets, among other techniques.
A session on collaboration – between organisations, reporters and the audience – featuring Ernst-Jan Pfauth, publisher of Dutch start-up success story De Correspondent, a speaker from new journalists' social network Hostwriter, and more.
Reddit – more than AMAs, in which Reddit's director of communications, Victoria Taylor, and Al Jazeera's Nazanine Moshiri will be among the speakers detailing how Reddit can be of great use to journalists.
A start-up approach to news innovation, led by Stijn Lehaen, head of VRT Start-up, who has been experimenting with new ways to reach "the YouTube generation" since early 2013. Lehaen will share his thoughts, experiences and lessons on the subject.
Tickets for news:rewired are still available but often sell out in advance. Ticketing options are:
news:rewired: Delegates can purchase a ticket for the one-day conference for just £130 +VAT. Tickets include lunch, refreshments and after event drinks on the day.
news:rewired+: These tickets offer a place at the conference, as well as a day of training the day after the event. The three options on offer for the day of training are 'creating a buzz' on social media with Buzzfeed UK editor Luke Lewis; data journalism online with Conrad Quilty-Harper of data journalism site Ampp3d; and mobile journalism multimedia led by Glen Mulcahy, innovation lead at RTÉ. Although space is limited, news:rewired+ tickets are still available for £300 plus VAT.
Both of these tickets are still available through this link. If you select a news:rewired+ ticket we will contact you to confirm which training course you would like to attend on Thursday 24 July.
This is cross posted from the news:rewired site, where you can keep up to date on conference news.