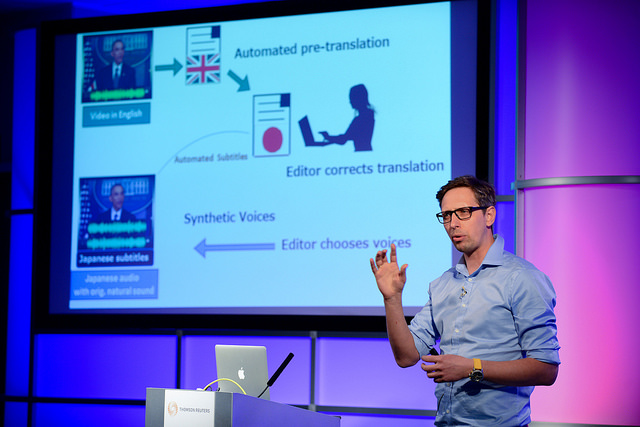 In news and journalism, language can represent a troublesome barrier. If on the one hand producing content in a specific language restricts its reach to just those capable of understanding it, on the other hand making it accessible to everyone by translating it is expensive and time-consuming. 
But what if technology could do it for us? What if a machine could automatically translate speech and then read it out loud for us, in the language we ask it to? This was the project presented by Dmitry Shishkin, digital editor at the BBC World Service, during today's news:rewired 'video focus' conference in London.
This new tool developed by the BBC World Service team starts by using Google's automated translation tool to provide subtitles to any given video. Then, an editor reviews the automated translation, correcting any possible mistakes, and chooses an artificial voice, that reads it out loud for the viewers in the translated language. Shishkin says:
Google translate is not perfect, but workable, it is a good starting point.
True, it has shown problems with word order, morphology, and cultural awareness. But it is anyway faster "than actually translate it from scratch," he adds.
Similar limits come from the use of speech voice synthesis. But, as Shishkin points out: "The quality of the synthetic voices is getting better and better." And, most importantly, the fact that a single editor can now on his or her own produce multiple voices means it is "no longer reliant on studios and recording equipment". Shishkin explains:
We're not pretending that those videos are going to be very shareable on social, or incredibly authentic.
What matters, in fact, is enlarging the scope of reach of a video. And, he adds, the completion rate on those translated videos is no different from the BBC's usual rate, so viewers seem to have a "tolerance".
When it first came out, the project received an "incredible pushback" – editors referred to it as a "robots' invasion," Shishkin says. But, as this tool's intrinsic potential was being made clear by its results, quality acceptance started to spread. The "overwhelmingly positive reaction" from Japanese users, who have been interacting with it for the last three months, supports the BBC's willingness to expand the translation to other languages, such as Russian, Spanish, Portuguese, Korean.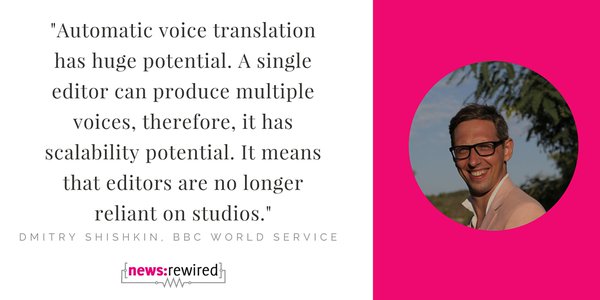 As Shishkin clarifies, the project "is not about robots taking journalists' jobs, but understanding how technology can help them". And this user's feedback seems to back up his optimism on the use of such language technology in supporting news production in the times to come:
As I can't speak English, I've been waiting for a site like this. I know it's a computer voice, but it's easy to understand, so thank you.