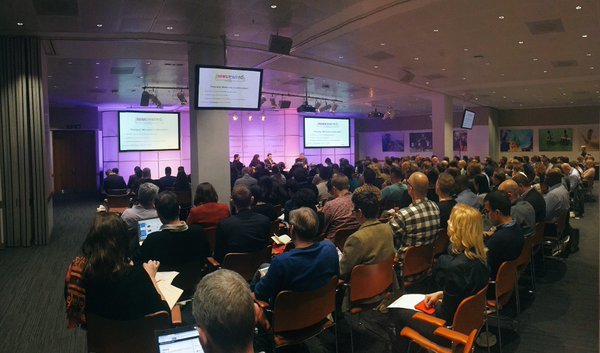 With less than six weeks to go until our next newsrewired digital journalism conference, the Journalism.co.uk team is pleased to announced more speakers who will be joining our expert line-up taking part in panels, workshops and talks throughout the day.
Speakers from The Times and Sunday Times, the ShoutOut Network, and the Reuters Institute for the Study of Journalism will be sharing their expertise and latest insights into innovative digital strategy and podcasting.
Meet our latest confirmed speakers:
Pat Long is head of news development at The Times and The Sunday Times. In a Spotlight Talk, Pat will explain why The Times is 

adopting an edition-based digital publishing model, and how that works in practice in the 24/7 breaking news environment the media has operated in for decades. The outlet announced in March it plans to no longer update its website as news breaks, publishing digital editions at set times throughout the day instead.

Imriel Morgan is the co-founder and chief executive officer of the ShoutOut Network and co-host of the Melanin Millennials podcast. ShoutOut Network launched its first show, Melanin Millennials, in December 2015 and it also produces other weekly podcasts with a diversity focus: Mostly Lit, Two Fools Talking and Unarchived History. Imriel will join: Kristen Taylor, audience development specialist and former community editor, Serial Season 2; Jason Phipps, head of audio, the Guardian; and Maeve McClenaghan, freelance investigative journalist and producer, Reveal, on a panel discussing what makes a successful podcast and how to monetise the medium.
Nic Newman is research associate at the Reuters Institute for the Study of Journalism, where he writes on the future of digital media. He is lead author of the Digital News Report, the world's biggest and most authoritative survey of changing news consumption along with an influential annual report detailing trends at the intersection of technology and journalism. Nic will lead a workshop exploring the latest trends in mobile consumption, highlighting people's changing habits in relation to social networks, news apps and mobile devices.
Newsrewired takes place on 20 July 2016 at Reuters, in Canary Wharf, London. Opening with a keynote from Kristen Taylor, the event will highlight the latest trends and techniques in digital journalism through a mixture of panels, talks and practical workshops throughout the day. Tickets cost just £165+VAT – book yours here.
As well as the conference, Journalism.co.uk is also hosting a day of training on 21 July at The Bridge near London Bridge.
A newsrewired+ ticket to access both the conference on 20 July and one of the courses on the 21 July can be bought here for just £335+VAT – giving delegates an 18 per cent discount on the conference compared to booking tickets separately. Newsrewired+ delegates can choose to attend one of the following courses: advanced online research bootcamp, search engine optimisation for journalists and making podcasts and audio packages.