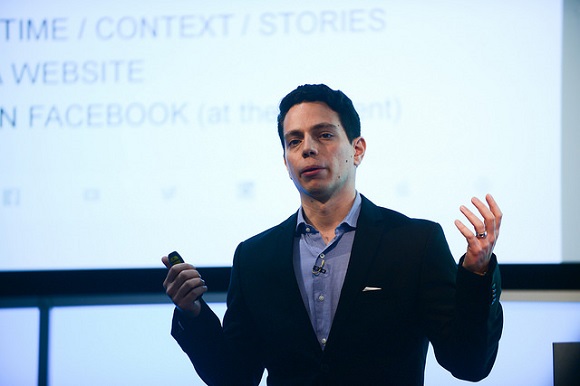 Ousama Itani, senior officer for strategy and development with Al Jazeera's online news channel, AJ+, today outlined the social media-savvy strategy his organisation had employed help further its development.
Speaking during a morning session of the news:rewired conference, in London, Itani said the ability to overcome challenges posed by working with social media sites was crucial for AJ+ to evolve.
Itani said changes to social platform 'may appear at any moment' and as a result AJ+ was constantly adapting to ensure it maintained presence and continued to draw a significant readership.
"AJ+ was never targeted as a centralised website," Itani said. "Most of our reach is on Facebook. At the moment, that's where we're finding our success."
AJ+'s Facebook page has received more than 5bn views since the full launch in September 2014, along with 5.7m 'likes'. Subsequent Arabic and Spanish expansions of AJ+ across social media channels has brought each more than 100m views.
"We're putting out six, seven, ten, 15 videos a day," Itani explained. "There's something about this content that's really hitting people."
When algorithm changes across social media sites showed signs of curbing AJ+'s growth, Itani said they built an app that would ensure audiences could still reach their content, unobstructed by influences from social platforms
"The app was built on a visual ideology of cards and stacks," he said. "Each card is a different type of engagement within the stack – a quiz, conversation, debate, video or simple information."
"News is made for where you are. Wherever the audience lives, that's where we need to live."
Within its strategy, AJ+ is exploring new types of content, Itani said, from 360 degree videos to new styles of commenting. Currently, he added, most of the top video comments on AJ+'s Facebook are from AJ+ itself, linking to another video and explaining to viewers why they should watch this related content.
Itani also mentioned the distinctive content targets adopted by AJ+. Three different angles are used to capture their audiences: 'real time', which is hard-hitting news; 'context' stories, including more background information; and 'stories', which are mini documentaries that highlight a unique person or tale. "These are the kind of things people are looking for." Currently there are hundreds of online bookmakers in Kenya, which makes it very difficult to choose the one we like the most, since they all know how to take care of their players, offering very interesting promotions, maintaining quality quotas, broadcasting the games live, arranging of all the payment methods that currently exist, taking care of your customer service or with quality apps. BetWinner Ke have relied on the quality of the service of all of them and that, of course, they have a license to operate in our country.
AJ+'s mini-strategies, summarised:
Establishing an app: therefore, they can avoid fluctionation from social media algorithm changes
Experimenting with different content types: 360 video, Facebook Live and Periscope, amongst others
Having clear content targets: 'real time', 'context' and 'stories'.
Restyling their content for social streams: their Facebook videos can be watched and understood without sound
Considering their priorities: optimisation > innovation, social media audiences > app users