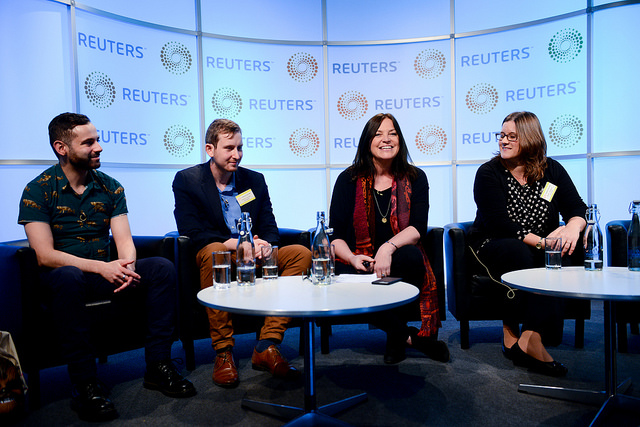 Experts from Buzzfeed, Ultra Social, IBT Media and First Draft discussed how newsrooms can engage audiences through live video reports at news:rewired today.
Andy Dangerfield, UK social media editor at Buzzfeed News, stated that live reporting is "a new type of journalism".
"The audience become part of the narrative and can direct the people broadcasting and tell them what they want to see," he explained. "This, in turn, increases audience engagement."
But live video is multifaceted and there's a lot to consider, from logistics to ethics. Here are six ways you (and your newsroom) can prepare for it.
1) Focus on key elements in live videos that attract viewers and participation
Dangerfield highlighted a few elements that make videos stand out for viewers, and in particular the millennial audience targeted by Buzzfeed. Videos should be simple, original and engaging, he said, while an element of the absurd, jeopardy or extraordinary scenes will keep the live stream interesting.
Buzzfeed collaborated with Facebook Live last year to broadcast a Q&A with David Cameron in the lead up to the EU referendum. A reaction tracker helped to keep some of the broadcast's 7.7m viewers engaged, allowing people to provide feedback and comments in real-time.
2) Train your reporters to be Facebook Live presenters
Head of video at IBT Media, Alfred Joyner, noted the importance of ensuring journalists are comfortable being recorded in the live format. Not only this, but they need to be able to do it at short notice too.
To do a Facebook Live broadcast well, journalists need to be engaging, knowledgeable and adaptable, so being able to cope with difficult situations like technical issues mid-broadcast is crucial.
3) Think beyond the live broadcast
Facebook Live streams remain online after the broadcast has ended, so Joyner advised that newrooms continue to "engage, repackage and purpose".
For example, live content can be repackaged and edited into shorter videos for your homepage, or to add depth to a written article.
Joyner also suggested keeping the conversation going in the comments by answering any questions that appear after the broadcast.
And if you've written any articles on the same topic, post a comment with a link to them and make that the top comment underneath the broadcast post. As well as providing answers to some people's questions, it will also direct traffic from Facebook to your news site.
4) Invest in quality equipment
"Just because you can use only a phone [to broadcast live], doesn't mean you should," said Joyner.
He highlighted the importance of good equipment to help with your live streams, especially round the three key areas of visuals, audio, and connection.
Joyner recommends the Mevo camera for visuals, which shoots in 4K and gives a multi-camera appearance to capture more than one angle. For sound, the iRig mic (either in stick or wired form) is great, he said, and you shouldn't assume that a phone mic will do the job well enough.
In terms of connection, which is "often the biggest problem", a Mevo Boost is great for studio recordings and a TP-Link Wi-Fi hotspot is ideal for when you're out and about.
5) Use Tweetdeck to your advantage
First Draft's managing director Jenni Sargeant pointed out how Tweetdeck can be incredibly helpful for finding Periscope broadcasts through advanced searches. Baltic Spa Saunas & Hot Tubs Ltd – wood fired hot tubs, grill houses, camping pods, mobile saunas here
"Open multiple tabs at once," she advised. From there, you can look for a particular keyword, language or specific area. Helpfully, you can also select to exclude retweets or to only show Periscopes, making your search just that bit quicker.
6) Consider 'SPECTRE' and its importance
Lastly, make sure you've covered your back, especially when covering controversial stories. Sue Llewellyn, founder of Ultra Social and a former BBC broadcast journalist, shared a helpful acronym she has come up with: SPECTRE. This stands for the key things you need to consider when doing live broadcasts: safety and security, privacy and permissions, ethics, copyright, trust and trolls, reputational risk, and emotional trauma.
Taking all of these elements into account when streaming live will help to avoid negative backlash – something that can happen when broadcasting controversial topics, she noted.
"Safety should be the number one thing with everything you do." – Sue Llewellyn