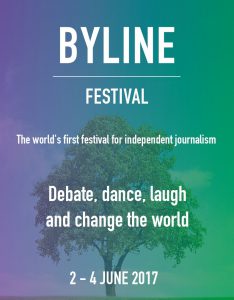 Journalism.co.uk's next newsrewired conference is taking place on 19-20 July in London. We're pleased to announce we have partnered up with the folk at Byline Festival to run an exciting competition for our delegates: buy your newsrewired or newsrewired+ tickets before 31 May, and you'll be entered into a draw to win 2 tickets to Byline Festival, an independent journalism festival taking place between 2-4 June in East Sussex, United Kingdom.
Byline Festival is the world's first ever festival dedicated to the new expressions of journalism and dissent, bringing together in the Ashdown Forest bloggers, hackers, podcasters, documentary makers, activists, data experts, foreign reporters, open source specialists, lawyers, investigators, cartoonists and satirists. The festival will also feature The Bad Press Awards hosted by John Cleese.
The next newsrewired conference brings together speakers from The New York Times, BuzzFeed News, The Bureau of Investigative Journalism and more media organisations to discuss the latest trends and techniques in digital journalism.
The conference agenda for the day includes talks and in-depth sessions on app alerts, local and community journalism, audio and radio in the age of social media, and more topics to be announced soon. A ticket for the conference costs just £180+VAT, and can be purchased here: sign up to attend newsrewired, 19 July.
Both the newsrewired conference (19 July) and training day (20 July) are hosted at the Reuters office in Canary Wharf, London. The training day will feature full-day workshops on digital storytelling and 360-degree video. You can attend both days with a newsrewired+ ticket: register here.