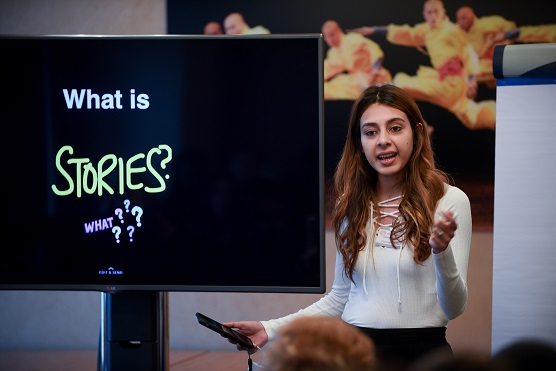 Have you ever noticed those little circles containing pictures at the top of your social media feeds? These things are called 'Stories' and although they might have started on Snapchat that hasn't stopped them making their way onto all our beloved social apps.
For the uninitiated, Stories are image- and/or video-based sequences, often containing text, that users can click or swipe through on social media. The sequence builds up a 'story' for the viewer.
Snapchat and Instagram stories might not be your first port of call when it comes to journalism, however, they are growing in popularity: so, if you want to learn how to tell a news story with ten second videos, you probably need to talk to Sumaiya Omar. A social media consultant and founder of HashtagOurStories, she believes Stories are a great way of producing and curating original journalism.
Speaking at the newsrewired conference, in London today, Sumaiya delivered a session about making big things happen across social media on a small budget. She explained said things that make stories unique are the very things that make them useful for creating content. So, here are Sumaiya's tips for using Stories, to tell stories:
Suspense and engagement – Sumaiya explained that Stories represent a whole new way for audiences to engage with content. Snapchat and Instagram Stories allow you to update an ongoing news item as it happens, keeping audiences engaged means they keep checking back for more.
Native and niche – in an age of fake news, Stories represent and authentic and original way to bring audiences content. Stories aren't the place for fancy cameras or editing – when someone taps on your story they want to see raw, exclusive content.
Art – apps like Snapchat and Instagram have a wealth of tools to make each instalment of your story look unique and engaging. Using dates and times, hashtags and location stickers to your advantage can connect you to audiences.
Personality – Stories are a way to create a brand. Being 'big, bold and authentic' in front of the camera is necessary to help build audiences.
Consistency – whilst tweets and statues have a relatively short lifespan, Stories go straight back up to the top of users' timelines when they get updated. Consistently updating your story means consistently being at the top.
Hype – getting people to tap on your story is no easy accomplishment and sometimes it is necessary to play a long game. Getting audiences hyped for future content is an essential way of keeping them invested.
Arrange and prepare – Stories might seem easy but just like any other type of content, careful planning is necessary to keep things running smoothly. With features like 'swipe up', Sumaiya explained content can easily direct traffic outside of apps onto external websites. Planning when these features are going to be used is key to keeping your content organised. Aujourd'hui, il existe plusieurs médicaments qui ont la même indication, même si le acheter Kamagra reste le plus connu !
Thumb – for Sumaiya 'thumb-stopping content' is no longer something we should be aiming for. We don't want content that stops us in our tracks – instead we need content that leaves us wanting more. Stories need to engage users' thumbs, encouraging them to keep on tapping to further the story.
Stories may seem trivial to some, but Sumaiya believes they're more powerful than they're given credit for. As she explained: 'it doesn't even have to be one of your own reporters pushing the record button'. Indeed, the ability to curate and commission stories has the ability to enhance a platform in terms of original storytelling and real narratives.
With so many different platforms for small companies, Sumaiya added, Stories represent an unintimidating, low cost investment with the potential for big success. Dog filters and flower crowns aside, perhaps it may be time to reconsider how Stories could be used as a genuine journalistic tool.