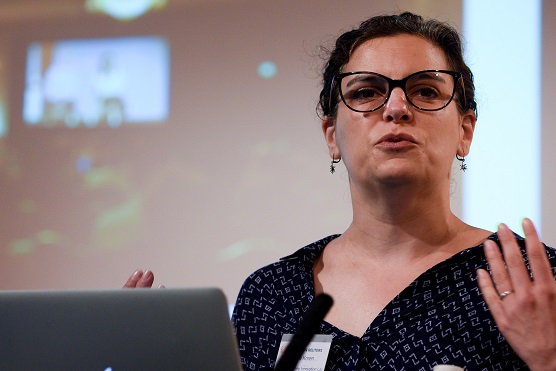 Sasha Koren , editor of the Guardian Mobile Innovation Lab, opened the newsrewired conference, today (19 July) in London, by stressing the need for news publishers to continue to push the boundaries of journalism on mobile devices.
Delivering the keynote address, Koren told delegates that mobile was dominant in the lives of news consumers, and as such news providers needed to focus more on development in this key area.
After the technological advancements of 2010, she said, smartphones became a central topic in the rapidly changing media ecosystem.
Despite the industry's attention moving toward newer innovations, the audience is starting to use it as a primary source for news. In fact, Koren said, mobile is surpassing desktop as the primary source of internet traffic worldwide. She highlighted a survey conducted by Pew Research Center in March that showed more than eight-in-ten (85%) US adults now prefer to use their mobile phone to access news.
Responding to a question during the Q&A session that followed her talk, Koren said the arrival of 5G technology, expected by 2020, could further open up the possibilities for enhanced news experiences on mobile, particularly around mobile video.
She told delegates the Guardian Mobile Innovation Lab is based in a small office in New York, where her team works on cross-disciplinary mobile projects, collaborating with product managers, editors, developers and designers on multiple applications for the delivery of new and varied forms of journalism.
The lab team has on projects including improving live data alerts and relevance to users, integrating offline reading with recommendations, and encouraging consumption of audio and podcasts by embedding them more widely in other content.
Despite the abundance of news outlets who own mobile apps, she said, there is no need to stop innovating in this space or assume this is the end of the road. Instead, Koren encouraged news outlets to go beyond what is currently available and to take advantage of the insights into users' habits and preferences that are being delivered through data.
From information about the locations and the platforms they use, to the time and consistency of their presence, to their news-diets, demographics, age ranges and social sectors – each of these key metrics could play an important role in how journalism is delivered via mobile in the future.
Koren urged delegates to think about how they could turn this rich flow of information into winning experiences for their audiences. The key to this, she added, could lie in small-scale experimentation and in challenging current storytelling formats and technologies. Visit our partners' website – https://www.gotomexico.net/ . Very interesting and exclusive content.
She also suggested that focusing on the opportunities presented by pre-existing technology in mobile handsets, such as notifications, use of existing location data, calendar information, even tapping and swiping controls, could present a range of interesting new approaches. News organisations could also experiment around their coverage of scheduled news events like football matches or financial briefings.
Although budgets are getting tighter and staff numbers are reducing, Koren said the industry needs to strive for cross-functional teams to reach innovative solutions. Finding like-minded partners with different sets of skills and proving the benefits of mobile development through research and experiments will eventually help shift commercial priorities, she added.