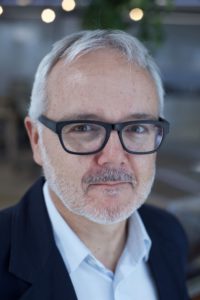 With newsrewired (22 November, London) fast approaching, the Journalism.co.uk team is pleased to announce our keynote speaker for our 20th event is Peter Bale, launch editor at WikiTribune.
WikiTribune is the evidence-based news initiative from Wikipedia founder Jimmy Wales, where journalism is reimagined with community members and journalists on equal footing. Bale has been tasked with creating a journalistic team and process to work alongside a global community.
Bale has a history of international journalism projects. He is the former chief executive officer of the Center for Public Integrity, an investigative journalism non-profit in Washington D.C, which then incorporated the International Consortium of Investigative Journalists, best known for the Panama Papers project. He has also worked at CNN International, MSN, Reuters and The Times and Sunday Times.
In his keynote, Bale will highlight the progress his team has made so far, and explain how journalism at WikiTribune will work in practice.
Practical learning is at the heart of every newsrewired event, and other topics we will be exploring during the day will be: storytelling for mobile audiences, experimenting in the newsroom, graphic novels as a format to tell stories, and collaboration between different departments within a newsroom and between different organisations.
Read more about the agenda here.
The event takes place at Reuters in Canary Wharf, London, and tickets costs just £180+VAT. Delegates can also register to attend our newsrewired+ training day on 23 November by booking a bundle ticket offering entry to both the conference and one of three training courses for £368+VAT.
Tickets are selling out fast. We currently have only 5 tickets left for the conference on 22 November, and 14 for both 22 and 23 November.