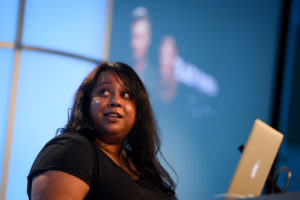 A good podcast combines engaging stories with an audience-pleasing format that allows you to download and listen wherever and whenever. But if you're starting a podcast, what steps should you take to establish and increase your audience?
Suchandrika Chakrabarti, freelance journalist and host of the Black Mirror Cracked podcast has some lessons to share. Focused on Charlie Brooker's award-winning TV series, Chakrabarti's podcast received 150,000 listens during its five-month run.
Firstly, the timing of the podcast's launch was crucial, she explained to delegates at newsrewired, as it coincided with the release of Black Mirror's fourth season on 29 December 2017. Access to guests made a difference too: to coincide with the start of the new series, the podcast featured an exclusive interview with Charlie Brooker which brought listeners from the US as well as the UK.
Reflecting on her success, Chakrabarti has some useful tips for anyone interested in starting a podcast:
The audience must be the focus, especially if the central topic is a niche one. It is important to understand the audience, who they are, what they listen to and what they are looking for. "What I was thinking was 'I love Black Mirror', but what do Black Mirror fans read? What else do they listen to? They are probably Guardian readers, they probably listen to NPR and are probably quite big podcasts consumers," Chakrabarty explains.
SEO is important to ensure that potential new subscribers can find the podcast easily and efficiently: "There is a reason why it is called Black Mirror Cracked and not something-something Black Mirror."
Think about the length: in her research for the podcast, Chakrabarti said she found another Black Mirror podcast that was two hours long. "You want to aim for 25-45 minutes and it's got to be good stuff," she says. Take a break. Here our casinos rating list https://afwcasinos.com/ with reviews. Avoid rogue online casinos. Here I examine the 'red flags', and show what legitimate / trusted online casinos do differently. Real Money casino games at casino are available for anyone. Let us bring the fun of this iconic and trusted casino to you with a huge variety of games. Generally speaking most online casinos tend to number an assortment of games which have been developed by the largest and casino trustworthy software.
Your choice of guests is paramount. Chakrabarti went through the actors on the show and used a celebrity and influencer marketing search tool to find other relevant people.
Social promotion is crucial as this is "where you will find more audience", she says: "Find your audience, they will be excited to hear that you're doing this and find as many of them as you can."

Other tips included offering "a package deal" to your audience by sharing your podcast on different social platforms and linking to relevant breaking news stories to garner more attention.