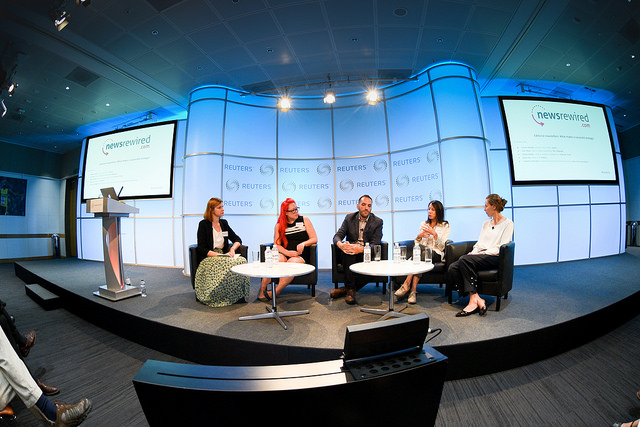 The email newsletter is seeing a resurgence in popularity, having experienced a slow period as the news world went through a "method-of-the-year" style approach to audience engagement as hype for new concepts came and went.
From RSS to curation to social media it became easy to overlook the humble newsletter, but doing so means doing yourself a severe disservice.
At newsrewired, we gathered a panel with representatives from organisations known for their high quality and popular newsletters, chaired by Federica Cherubini, international head of knowledge sharing at Condé Nast International.
The article is a compilation of the various strategies, approaches, experiences and tips from the panel.
In all cases, there is no hard limit on how much time and money you should invest in creating and maintaining a high quality newsletter, but there are obvious plateaus you will have to experiment with to find out what level of investment will have the best return for your organisation, depending on the resources you have available to spend.
What's key is to ensure you don't waste the potential of engaging directly with your readers, and don't alienate them with a shoddy product thrown together as an afterthought or boringly generated automatically.
"A good newsletter allows you to turn engaged readers into super-engaged readers," said Dan Silver, head of digital publishing, The Daily Telegraph.
Know your audience and their needs
Step one will be to do market research to truly make your product audience-first. Demographics, age, gender, profession, interest and preferred engagement style are just the bare minimum that must be considered before even starting to deliver the newsletter.
Ask your audience themselves for feedback, and listen to that feedback.
While showing off your expertise in long weekly pieces with beautiful pictures or flurries of daily updates filled with links to encourage click-through might both be good strategies, this is only true as long as you are absolutely certain this fulfils the needs of your audience.
Kate Day, editor, UK, Politico, explained that it is also possible to go overboard with presentation over content. "Our newsletter is by comparison quite simple, a logo, no pictures and as much or little text as there needs to be.
"Many in our audience are quite time-poor and just want information.
"This also means we don't have any long loading time for images and the newsletter works on all platforms and devices without complications."
Make the newsletter a priority
Having a newsletter be someone's fifth priority in a given week or having the interns do it have been a classic mistake in the past.
Have at least one main member of your team, preferably at editorial level, be responsible with a clear expectation to focus on delivering the newsletter as a quality product. Newsletter editor should be an official role.
Ensure control is kept in the newsroom. You can't wait six weeks to update a newsletter while waiting for advertising research to return, or outsourced legal advisors to update terms of service.
Ensure you have an in-house tech team on hand to quickly update or create custom templates for different devices, platforms, events or topics. Your marketing team should be routinely gathering and analysing your user feedback.
Give basic newsletter and tech training to your entire team and make sure they know to treat it as a part of their daily routine to provide their necessary support and relevant expertise to the main newsletter officer(s).
Provide both a clear overview and specialised deep dives
Once a week, your newsletter should ensure your audience knows exactly what you have been up during that week. They should never be worrying that they may have been missing out on something after reading your overview newsletter. This product should also refer to the more specialised newsletters you are also providing.
Let it be as long as it needs, with clear topic sections so people can skip around depending on their interest. Provide a multitude of links, but the newsletter should be in-depth enough on its own to let the user feel satisfied without leaving their inbox.
Set up as many topic-focused, specialised newsletters as you can, written by your experts in the fields. All subgroups or demographics of your audience should feel they have coverage that delivers what they specifically want and need from you.
Experiment with these and use variety to let users pick and choose among update schedules, length and depth of pieces, advanced or simple layouts, self-contained or list of links for click-through. Your users will be the final judges on what works best.
Each must be tailored to your niche audiences' needs, as described above. There is no limit to how specialised you can go in catering to your users.
As Silver emphasised: "We know they are interested because they have shared their emails with us. Don't underestimate that we have direct access to and communication with our readers through their inbox. Very few other platforms allow that."
Cultivate a distinct and strong voice
Readers should never be in doubt they are reading your newsletter. Create and maintain a style guide and make sure everyone working on the newsletter is approaching the project in the same manner.
Readers want a consistent, personalised and appropriate voice. Be aware though that you can and should have different voices for the different newsletters you send, while maintaining a distinct organisational tone.
Lianna Brinded, Europe news editor at Quartz, noted: "Don't be afraid to be a bit goofy or as silly as you need. Use a bit of humour. You want to have a strong voice to cut through the noise and have people returning because they like your style."
Analyse your data
There are many methods of getting approximate feedback on the success of your newsletters, the most obvious being advertising revenue and embedded link click-through.
While there are dozens of metrics to measure the success of your newsletters, the most important will be direct conversation with your users. Make it clear that they are part of a community and that the newsletter is created for them.
Simply signing up stimulates a sense of engagement and you want to create a direct dedicated feedback channel or method to ensure this engagement isn't squandered. https://buyiglikesfast.com/buy-instagram-likes/ Don't be afraid to start direct dialogues with users to hear their ideas.
Renée Kaplan, head of audience engagement for the Financial Times, gave an example of successfully engaging with the audience, specifically the FT's female readers.
"Our female readers gave us feedback that we could appear somewhat unapproachable at times. So for example by setting up newsletters curated or written by different female members of staff each week called "Long story short", we made it clear without being too obvious that we were listening to their needs.
"These have gotten twice the opening rate of our other newsletters and four times higher click-through rates."
A quick, but imprecise method of measuring retention rate or how much of the newsletter your users read is to analyse the click-through of links and where they are located in the text. Having an all-purpose link at the bottom can give you a rough idea of how many users made it to the end of the piece.