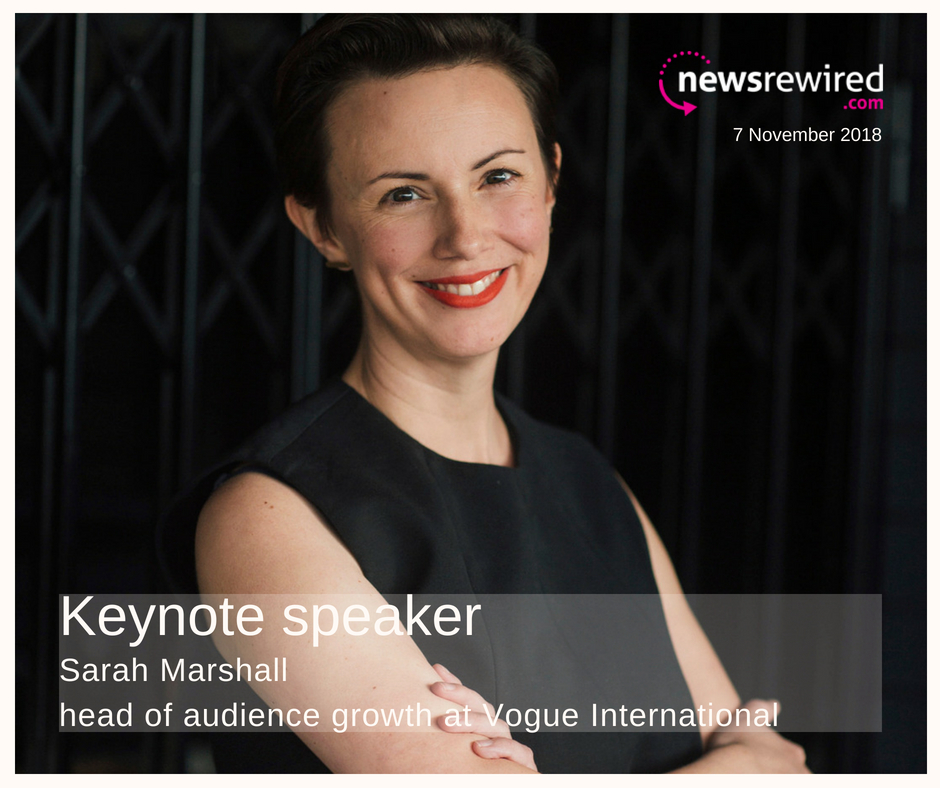 We are pleased to announce that Sarah Marshall, head of audience growth at Vogue International, will be our keynote speaker at the upcoming newsrewired conference in November.
Audience growth is the key aim of every news organisation. Figuring out not only who follows your content but who will pay attention to it next is key for staying on top of your game.
Since Facebook changed its news feed algorithm, it has become harder for news organisations to gain traffic from platform shares.
In her keynote speech at newsrewired in London on 7 November 2018, Sarah Marshall will share her best tips on widening your pool of readers and spotting new trends in content sharing.
She will talk data, key performance indicators (KPIs), plans and targets; patterns in traffic and reader behaviour; the Facebook algorithm and the growth of search; and how Vogue is engaging audiences on Instagram and Snapchat.
[button link="https://www.journalism.co.uk/s195/" size="xl" color="#EC008C" text-input-id="Clear" window="yes"]Buy your tickets here[/button]
Sarah Marshall is head of audience growth at Vogue International, responsible for the on-site and social growth of the 11 Vogue sites that are wholly owned by Condé Nast International.
She is also a visiting lecturer on the Interactive Journalism MA at City University, London.
Before joining Vogue in 2017, she was head of audience development, EMEA, The Wall Street Journal. She is also a director of Hacks/Hackers London. Hacks/Hackers is a global movement of journalists and technologists who get together with the aim of "rethinking the future of news and information".
Sarah Marshall was an editor at Journaism.co.uk where she reported on the news industry. She has also worked as a journalist in print, TV, online and radio.
She has a BSc degree in Anthropology from University College London and a Postgraduate Diploma in Broadcast Journalism from City University, London. promogirl.ch
[button link="https://www.newsrewired.com/agenda-8/" size="xl" color="#EC008C" text-input-id="Clear" window="yes"]View agenda[/button]
The next newsrewired digital journalism conference takes place on 7 November at Reuters, London.
The programme includes panels, workshops and spotlight talks on artificial intelligence in the newsroom, new social media strategies for content sharing, verifying content in the age of fake news, how to build revenue with a membership programme, and more. Book your ticket here for just £190+VAT.
If you would like to contribute as a speaker or sponsor, please get in touch by emailing marcela@journalism.co.uk