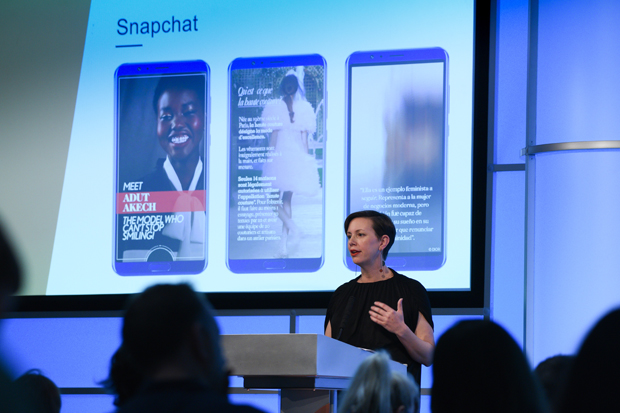 Since Vogue International was launched last year, the team has created a transformational culture within the organisation, working with the 24 Vogues around the world outside the US.
The 40 editors based in London, along with the wider team of 260 people, have 7 teams within Vogue International: features, photography, video, social storytelling, Snapchat, fashion shows and audience growth.
In less than a year, the team has launched Vogue Paris and British Vogue on Snapchat, and launched a third edition, Vogue en español, just a couple of months ago.
"We have created a new team while both developing a new transformational culture," said Sarah Marshall, head of audience growth at Vogue International, at newsrewired today (7 November).
So how did they do it?
By creating effective communication
"When I join 18 months ago, I was keen to make my knowledge practical," Marshall said.
"Every day, I email all editors daily with comments on what has done well across the Vogues and I suggest syndication opportunities. It's about information sharing but also about building trust."
The team also make a standing circle and share the 1 or 2 things that everyone should know, along with 'Show and Tell' every other Thursday to welcome new starters and share key information.
"We also bring our own lunch and listen to a guest speaker every two weeks – it is a chance to learn and develop personally and as a team."
The team also implements '5-15 report', an initiative started by Yvon Chouinard, founder of Patagonia.
"It's a roundup that takes 15 mins to write, 5 mins to read – highlights, challenges, and plans for next week that each employee sends one to their line manager so the key messages travel upwards."
By creating a positive culture
"We are Vogue International and need to be representative of the languages and cultures of the Vogues," she said, explaining the 40 members of the team speak 17 languages fluently, as mother tongue.
"We hire for culture fit, we hire for languages. We've hired from industry: the Vogues, Net-a-Porter. We've hired from news: the BBC, the Wall Street Journal. But also from the platforms."
Marshall explained they have been conscious about the meetings culture created in the organisation.
"We decided to not look at laptops in meetings, we try to avoid meetings on a Wednesday, we have a buddy scheme to welcome new starters, we have flexible working," she said.
"Treating people like adults really makes for a positive work culture."
By fostering creativity
The team of 40, who are mainly creatives are encouraged to come up with new concepts.
Hannah Ray, head of social strategy and storytelling, came up with a concept of 'creators' collective' – a gathering every fortnight in which anyone can attend and present a project or challenge.
"Then a cross-functional team of three or four people is created – and we try to get people to go beyond their day jobs. So a video producer may take the lead on a photography challenge; a photo editor may get involved in an audio project."
Of course, all of these efforts enable to teams to work more effectively together, thereby contributing to audience growth – the key aim of every news organisation.
Marshall defines audience development roles as 'taking the overall goals of the news organisation, whether they be advertising revenue and/or a growth in the number of paying subscribers, and working backwards to develop a strategy to help the news organisation achieve those goals'.
She explained the publisher needs large audiences who they can engage and bring down the audience funnel, so set key performance indicators (KPIs) encouraging growth and loyalty.
If you're wondering how to get started with an audience growth plan, here's what @voguemagazine editors will be focused on in 2019 – @SarahMarshall at #newsrw pic.twitter.com/YU0glvZ8dc

— Corinne Podger (@corinne_podger) November 7, 2018
"We need large engaged audiences to future-proof ourselves: whether for custom solutions, to recruit for the Condé Nast colleges of fashion, to attract people to events, for example," she said, explaining that she created a two-page doc to explain why they needed to grow for each MD, each head of digital, each editor so that the international businesses have the same message and are on board. Find more information – http://www.sockerollon.se/
However, she stated that having KPIs and a company understanding is not enough – you need an ambitious yet achievable goal in order to grow.
Every Monday, an auto-generated email goes to each editor to them them how they are tracking against target, and the publisher runs growth workshops talking audience strategies along with a 'growth book', asking each editor to share three growth initiatives from their newsroom.
"It is important to create a growth plan – and have monthly check-ins," she said, noting the importance to respond to changing algorithms.
"Your community strategy is like a car. The content is your vehicle and it needs gas – or distribution – to run. Put the wrong kind of petrol in the car and it won't work. And you need to maintain your car – that's the community part. If you don't maintain the community, the car stops working."