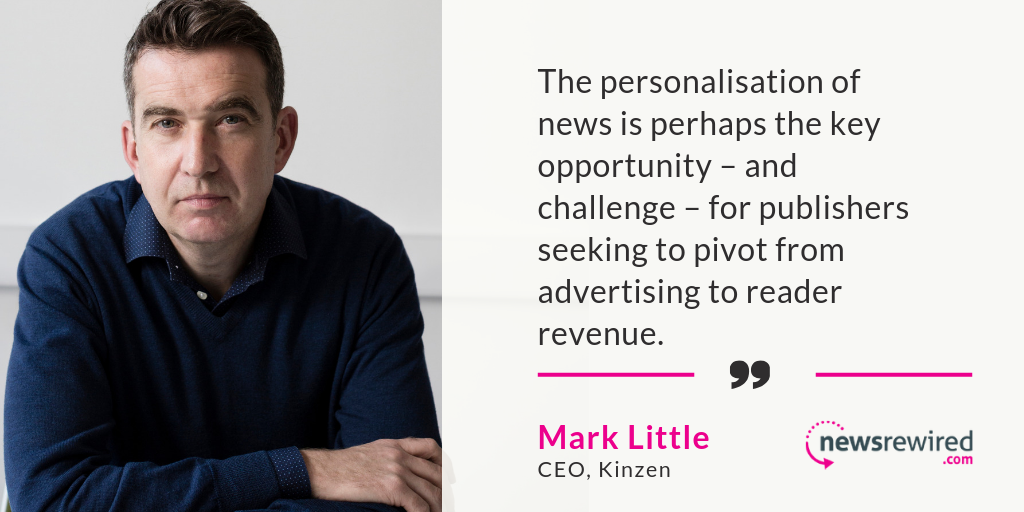 Mark Little, CEO of Kinzen, will be joining the panel on new ways to finance journalism in the digital age.
Kinzen is developing personal news routines that connect active news seekers and quality publishers. Mark will be sharing some of the lessons he's learned and solutions Kinzen's building for publishers seeking more valuable personal engagement with their users.
With only nine days left until the event, tickets are selling fast. Don't leave it until the last minute and book your place today for just £190 +VAT.
[button link="https://www.journalism.co.uk/s195/" size="xl" color="#EC008C" text-input-id="Clear" window="yes"]Book your place now[/button]
Kinzen, an Irish start-up that wants to give every individual control of their daily news routine. Mark Little spent 20 years in broadcast news, as a foreign correspondent and TV anchor for RTE. In 2010, he founded the world's first social news agency Storyful, which was sold to News Corp. He was Twitter's VP of media partnerships in Europe and the MD of its International Headquarters in Dublin. He co-founded his second start-up in October 2017 with former Storyful colleagues Aine Kerr and Paul Watson.
---
Programme outline:
Keynote | Future of digital innovation: personalised content, voice, and dynamic paywalls
Local news: breaking out of the London bubble
Financing journalism in the digital age
How we can monetise content on smart speakers
Workshop: How to reinvent your mobile storytelling
Workshop: Using real-time alerting to find breaking news
What is blockchain and why should journalists care?
Who is investing in solutions journalism?
…and more.
[button link="https://www.newsrewired.com/agenda-8/" size="xl" color="#EC008C" text-input-id="Clear" window="yes"]View agenda[/button]
We look forward to seeing you in London.