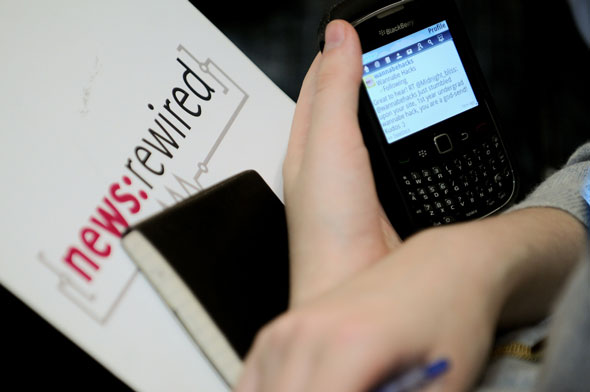 We're pleased to announce the agenda and a number of new speakers for news:rewired – full stream ahead, which will take place on 13 July 2012 at MSN HQ in London (Cardinal Place, 100 Victoria Street, London, SW1E 5JL).
The one-day digital journalism conference will focus on the latest tools, techniques and tips on how to produce the best journalism online and make it earn its keep, with innovative case studies from the industry.
Speakers confirmed include Raju Narisetti, the former managing editor of the Washington Post who joined the Wall Street Journal as managing editor of the digital network in January, who will discuss digital strategy in the keynote panel and, in our final session on the livestream approach to digital news, he will talk us through the new WSJ Streams, being used for live coverage of specific news topics.
The keynote panel on 'engaging the digital mindset' will also feature Alex Gubbay, who is director of digital platforms at Johnston Press, and whose chief executive Ashley Highfield earlier this year signalled an intention to "flip the model to digital first".
The Guardian's mobile editor Subhajit Banerjee will be joining the mobile news panel, which will look at how to push content to a wide range of mobile devices, tablets and e-readers, while John Barnes, managing director of the technology and digital division at Incisive Media, will form part of a panel addressing the important issue of revenue, and looking at the different values of bringing in money and gathering audience data.
We're also pleased to confirm Pete Clifton, executive producer of MSN; Martin Fewell, deputy editor of Channel 4 News and Damian Kimmelman, CEO of Duedil.
See a full list of the speakers already confirmed for news:rewired – full stream ahead. And as a reminder, here is our first speaker announcement which includes representatives of the Economist, Guardian, Telegraph and ITV News.
You can book tickets here for just £130 (+VAT). Tickets include lunch, refreshments and after event drinks on the day.
For more information about tickets and availability email ed[at]journalism.co.uk.
For sponsorship/advertising queries contact stefanie[at]journalism.co.uk or james[at]journalism.co.uk.