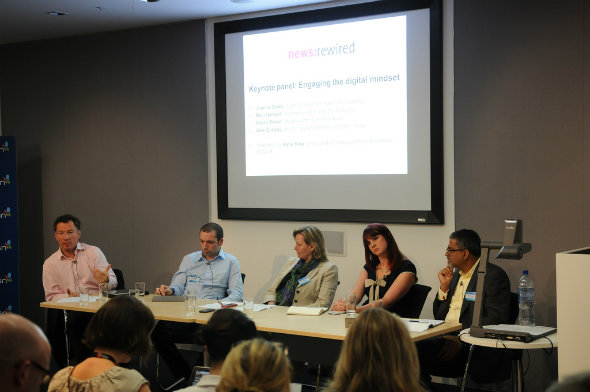 Journalists are constantly obsessing over the latest tools for digital journalism, but the key point that emerged from the Engaging The Digital Mindset session was news organisations should instead focus on creating better reader experiences.
"In 2012, the definition of a journalist must include bringing more people to your journalism" said Raju Narisetti, managing editor, Wall Street Journal Digital Network.
Narisetti thinks the way to create the best reader experience is to knock down the wall that has traditionally existed between the editorial and technology departments of a news organisation.
Most journalists think that the stuff they create is art , and developers and journalists live in different worlds.

Newsrooms now have to pivot from creating amazing content to creating amazing experiences and question how we want the reader to experience what we create.
Reader experience is key at the Guardian, with almost every newsroom desk now having a community co-ordinator who helps advise journalists and manage readers, said Joanna Geary.
Geary, who was appointed as digital development editor seven months ago, said the Guardian's focus is on pushing out stories to the web as soon as possible, with the paper now concentrating on taking those stories and reformatting them for print.
Speaking of experiences, Channel 4 News' Martin Fewell told the news:rewired audience about No Go Britain, the channel's investigation into disabled access for transport and travel in the UK.
No Go Britain solicited the views of disabled people in order to first identify the problems and areas of interest before beginning their own study.
Looking at the state of UK transport "through the stories of  its disabled users", No Go Britain contained video content, crowdsourced material, live debates and input from gold medal winning paralympic athlete Tanni Grey-Thompson.
Fewell saw these projects as being able to engage a wide range of users with a variety content and using social media to maximise the impact of stories by creating a buzz – ultimately what these organisations are trying to achieve.