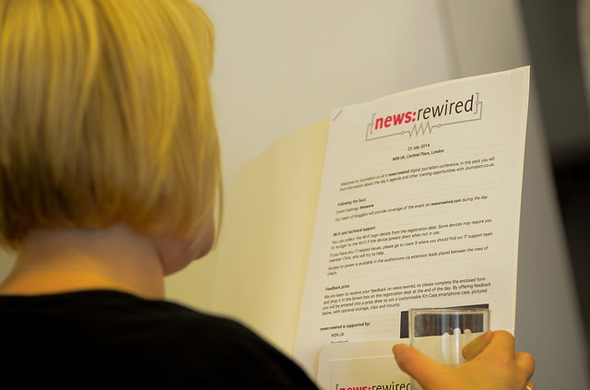 We are pleased to announce the next batch of speakers for the upcoming news:rewired conference on Tuesday 3 February in London, including speakers from BuzzFeed UK, investigative site Bellingcat and the Guardian.
The one-day digital journalism event will cover the latest developments in the industry with a focus on new tools, tips and techniques for producing quality journalism online.
Joining the Guardian's data editor Alberto Nardelli in a session on approaching the elections will be Jim Waterson, deputy editor of BuzzFeed UK. Waterson was previously political editor for BuzzFeed UK and has been leading the outlet's coverage of recent political developments in the UK, appearing on Newsnight and Sky News.
As the UK media gears up for the next general election, the session will look at new possibilities in political reporting and different approaches for covering elections.
BuzzFeed UK's recently appointed editorial director, Tom Phillips, will also be speaking at news:rewired in a session on visual journalism. Phillips has been appointed to "explicitly" focus on "being experimental and trying out new formats" at the media outlet, which has found success with a strongly visual approach.
Subhajit Banerjee, mobile editor at the Guardian, will be involved in one of the final sessions of the day at news:rewired, demonstrating how the Guardian is presenting its journalism on wearables like smartwatches and Google Glass.
There will also be a workshop looking at online investigations, led by Eliot Higgins, founder of investigative site Bellingcat, and Paul Radu, founder of the Investigative Dashboard and a journalist at the Organised Crime and Corruption Reporting Project (OCCRP).
Other speakers already announced include the Guardian's executive editor for digital, Aron Pilhofer; the BBC's head of visual journalism, Amanda Farnsworth; and Pat Long, head of of news development at The Times and Sunday Times. The full list of speakers can be found here.
Earlybird tickets have now all sold out, but tickets are still available for just £165 +VAT.
Tickets for news:rewired+ – an additional day of training as well as the conference – are also available, with a choice of three courses.
The two courses so far announced are 'social media content strategies', led by former BBC journalist Sue Llewellyn, and a day of training in visual journalism skills and techniques led by Lulu Pinney. Tickets for news:rewired+ are £335 +VAT.
All tickets are available here.
Update: This article has been updated as the earlybird discount tickets have now all sold out.