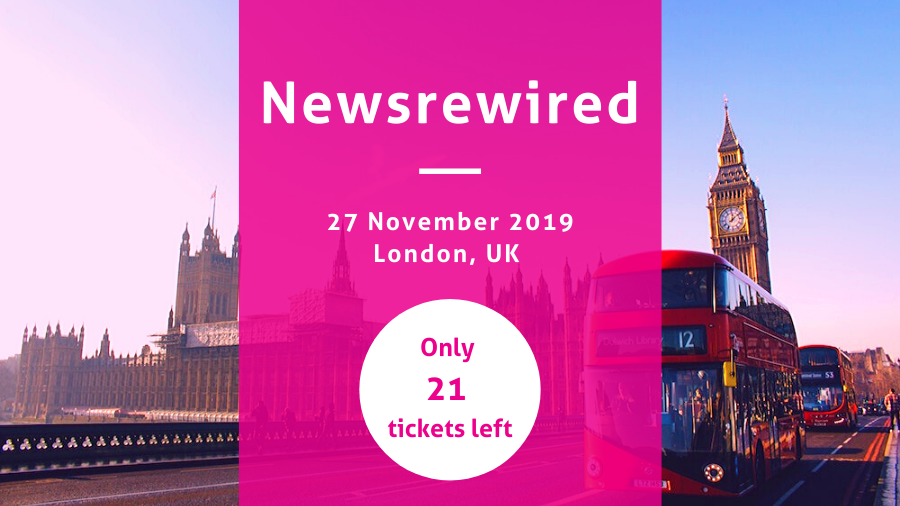 With less than three weeks to go to our Newsrewired conference, spaces are getting tighter so secure your place today – when they are gone, they are gone.
This will be our 25th conference, and as usual, we will aim to provide delegates with practical skills and ideas they can take home and explore in their own organisations. Here is what you can look forward to:
Keynote speech by Dmitry Shishkin
Culture Trip's chief content officer Dmitry Shishkin and his team produce hundreds of multi-formatted editorial pieces created by freelance contributors from all over the world. They aim to inspire people to travel across their cultural boundaries and – ultimately – convert them into paying consumers.
In his keynote, Dmitry will talk about his favourite subject – the intersection of product, content and data – and will share findings around Culture Trip's full-funnel commissioning process, automation and machine learning.
Talks and panels
From mobile and wearables journalist Yusuf Omar to the Financial Times' executive editor Lyndsey Jones, our stellar lineup of speakers will share their knowledge of diversity in the newsroom, artificial intelligence, audience growth, fighting disinformation, and more. See who is speaking
Four workshops and networking
To make the most of your day, we prepared four practical workshops: learn to create an audience-first strategy with Conde Nast's internal audience growth training; see how to host a live podcast recording, engage your readers and viewers with constructive journalism and visualise data with Google Maps.
There will also be plenty of time to meet fellow media professionals during the breakout sessions and networking drinks.