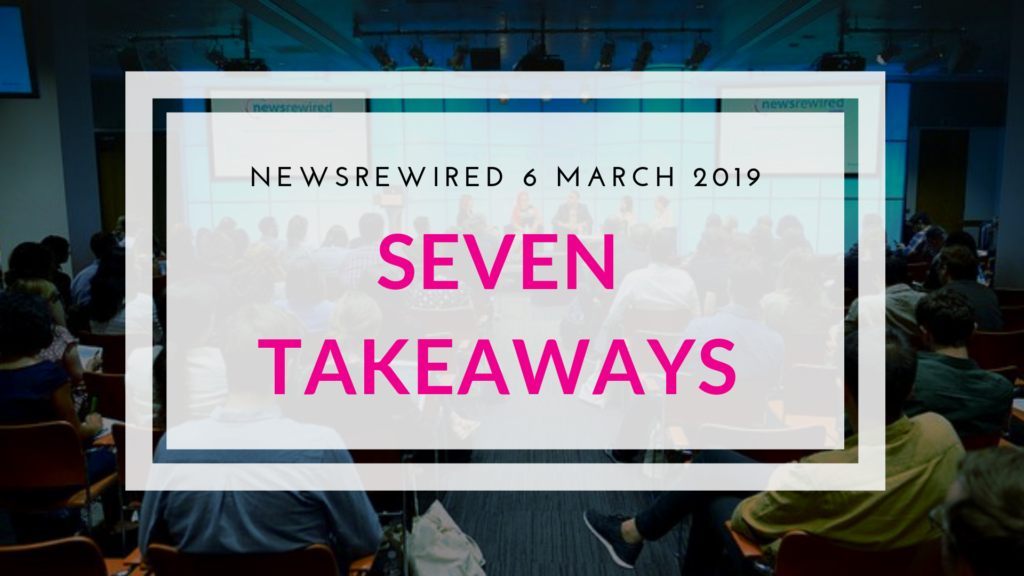 The Newsrewired conference, which took place on 6 March 2019 at Reuters in London, showcased once again the most interesting projects and latest trends in digital journalism. If you weren't there, or if you simply want to remind yourself of the topics of the day, check out this editorial selection of the best conference coverage articles.
Looking for speakers' presentations? Find them here.
The next Newsrewired conference will take place in November 2019. We are currently working on the agenda and will announce the date soon. If you would like to participate as a speaker or a sponsor, please get in touch with our editorial team.
How Neue Zürcher Zeitung increased its conversion rate up to five times with dynamic 'paygates'
Rouven Leuener is group head of digital product at Neue Zürcher Zeitung (NZZ), one of the oldest German-language newspapers in Switzerland. Leuener, who took the lead on digital innovation five years ago, shared his experience of experimenting with dynamic 'paygates.'
"What we are trying to do is to convert people we reach through engagement into registered users and, sooner or later, into paying subscribers. The Swiss population is so small that we can't fill our funnel with loads of people like, for example, the New York Times. That's why we need to be much more efficient on conversion and the dynamic 'paygate' makes this happen," he said. Read more
Finding solutions to local issues: how SoJo stories saved French regional publisher from collapse
In 2015, local newspaper Nice-Matin filled in for bankruptcy. Four years on, it employs 180 journalists across 14 local editions, thanks to a subscription strategy boosted by solutions journalism.
Aurore Malval, journalist of Nice-Matin talked about how the publisher started producing solutions stories with a small, dedicated team and this became the 'keystone' of its subscription strategy. Read more
BBC Local News Partnerships: how breaking out of the London bubble can strengthen the news agenda
Looking outside your newsroom – and your city – for stories comes with unexpected benefits.
Matthew Barraclough, head of BBC Local News Partnerships (LNP), said that since the project has been rolled out in September 2017, 102 organisations have signed up as local news partners, accounting for more than 850 regional titles. Through the Local Democracy Reporting Service (LDRS), one of its three pillars, more than 150 reporters have been hired under the scheme to report on local democratic bodies, such as councils, NHS trusts, crime commissions and fire authorities. Read more
Publishers are experimenting with smart speakers, addressing concerns around monetisation and discoverability
Here are the key points from our Newsrewired panel which looked at the benefits of investing in smart speaker-friendly content, and explored projects by early adopters.
"This is really a disruptive technology which is going to be a new dimension to the internet. At the moment, we are on the cusp of a nascent audio web, an audio extension to the internet," said Chris Stone, video executive producer, Evening Standard. Read more
Micropayments can help online publishers increase revenue without asking for subscription
Removing barriers between readers and content enables publishers tap into wallets of readers who are not willing to commit long-term – at least not initially.
Dominic Young, founder of microtransaction platform Agate, said that this model could slot into a behavioural gap in today's news audiences. Agate uses an online wallet system, which is topped up by the user and spent across various affiliated sites at prices and terms set by the publisher. Read more
BBC News shows that hard-hitting solutions journalism stories can thrive on social media
Solutions journalism can hold the key to engaging young, social media-savvy audiences with strong visual content.
"I want to make a case for solutions journalism to become a credible tool in the armoury of the daily news journalist," said Jonathan Paterson, editor, digital video, BBC News. Read more
The double-edged sword of blockchain
Many journalists and publishers are struggling to get to grips with blockchain.
Simply, blockchain is a growing list of records – called blocks – which are encrypted and linked. Each block also contains a timestamp and other information about the origin of data. finasterid 1mg kaufen ohne rezept By design, a blockchain is resistant to modification of the data it contains, which may come in handy when we need to protect news content from tampering or even censorship. Three panelist used real-life examples to bring the concept of blockchain to life. Read more
All pictures are by Frank Noon/Mousetrap Media. Looking for more pictures from the event? Check them out here.