Between a no-growth high-inflation economy, disruption brought by tech platforms and rising news avoidance, news publishers face many challenges. But what is the greatest enemy of the news industry?
"I'd suggest it's none of those. The enemy is inertia," says Edward Roussel, head of digital at The Times and Sunday Times, in a keynote speech at Newsrewired this week (23 May 2023).
Sitting still is simply not an option for news organisations regardless of the odds stacked against them.
Feeling the pinch
Roussel lays bare the economic issues: the UK economy is contracting 0.3 per cent this year, the worst of all G7 countries. Subscription fatigue is kicking in amid the cost of living crisis, as 1m Britons cancel subscription services. Print costs have doubled in the space of two years with print advertising taking hit.
"When you're in a recession, your best bet is to double down on your existing customers," he continues. "You've got 24 hours to win over a digital customer."
Times Media is taking a data-science-led approach to retaining subscribers. Getting them to download the app, finish a puzzle or sign up for a newsletter will significantly decrease their propensity to cancel. Those who engage beyond the 24-hour window are twice as likely to stick around.
The Times Media has around 500k digital subscribers, 73k coming in the last 12 months. That is down to a culture change internally. Gone are the days of print-focused news meetings and stories that were crafted with newspapers in mind. Now, there are three daily meetings at 8 am, 10:30 am and 3 pm and they all centre around digital.
"Any conversation about print is banned, we're only talking about digital news stories"

Edward Roussel, The Times and Sunday Times
"It's not until 5 pm that an editor will look at a flat plan for print. The entire day is dedicated to the planning and commissioning of digital stories."
Multimedia elements matter a lot more now. Times Media's pandemic expansion into radio illustrates its audio commitment, bringing in 500-600k listeners every week. Increasingly, its investigations emphasise visual reporting, like graphics and photography.
Digital brings with it a broader audience and Roussel is eyeing up further expansion into the US, which makes up roughly 10 per cent of its subscriber base.
Read more: Subscription retention strategies from Times Media, Washington Post, DC Thomson and The Conversation
Ever-shifting sands
Disruption to Facebook in recent years, and Twitter of late, is making some media companies sweat. But not Times Media: only about three to four per cent of its overall traffic came from Facebook before it started to pull its support for news businesses.
It has been more detrimental for social-first brands like BuzzFeed News and Vice, both of which closed this year. Since 2020, Facebook referral traffic dropped 85 per cent for the former and 89 per cent for the latter.
"That's the coup de grâce for a number of media companies who were entirely reliant on social media," Roussel says.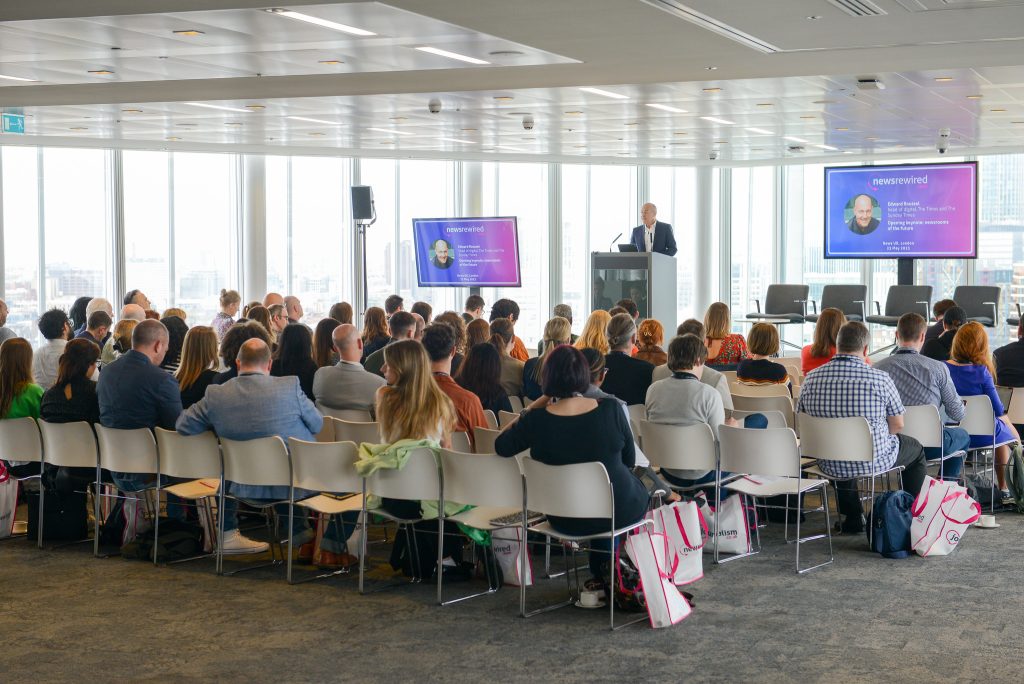 Mobile users are too big to ignore though, as Apple News tops the charts as the most popular news app (13.4m) just in front of BBC News (13m). Tied-third Upday (2.7m), owned by Samsung, paints a picture of phone companies that are suddenly important to the news industry.
Google is also changing fast, with its search "becoming a destination, rather than a conduit". The search engine is a significant source of traffic for media publishers, but Roussel says that the clickthrough rate to publishers' websites is on the decline.
He adds that publishers need to make some bets. News Corps (owner of Times Media) has extended its deal with Apple News+, first started in 2019, which brings in up to 1m daily readers from new demographics and locations. It is also bundling Apple Classical Music into The Times subscription package.
Generative AI is an area where Times Media will tread carefully. Roussel's view is that it is better to be an "active actor" amongst disruptive forces. Questions around the source of its data, licensing potential and referral model still need answering though.
Sleepwalking into news avoidance
The third big headache is the state of news avoidance and trust, as only a third of people in the UK trust the news, and nearly half are avoiding it.
An obsession with politics and negativity in the news agenda are some of the largest reasons for these figures but it is difficult to break the mould.
"The media is caught in a loop because negative arousing headlines can attract more clicks than positive or neutral headlines, creating a perverse incentive for news companies to spread negative content," Roussel says.
"But the long-term impact of that direction is that people switch off. So what do we do about it?"
Read more: How to counter news avoidance? Give readers a stake in the story or their news outlet of choice
Times Media is focusing on cutting out hyperbole and alarmist language and emphasising constructive, contextual and factual reporting. This can be seen in The Times' campaigns around cleaning up rivers as part of its environmental coverage.
"None of these issues needs to be a weighty problem for you, provided we do what we've always done: continuously reinvent the model," concludes Roussel.